Dinner parties have a set of criteria that they should fulfil; the host doesn't want to be stuck in the kitchen away from guests, the food should be tasty and the guests want to be relaxed and leave full. This is why I think something that can be prepared in advance and then finished later on is ideal. I love lamb curry and I have really been enjoying my new Hairy Bikers curry book so I fancied having a go at a curry using lamb mince. So when Schwartz got in touch to see what dinner party ideas I could think of using their spices I set about creating an ideal dinner party dish: Curried Lamb Pie with Bombay Potato Topping. I thought this would meet the above 'Caroline Criteria' very well.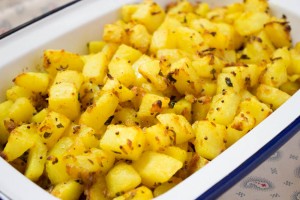 Ingredients
You will need (for 4):
Flavourless oil for cooking

2 garlic cloves, chopped

2 onions, chopped

1 tomato, seeds removed and chopped

2 tsp tomato puree

3-4 tsp Schwartz Curry Powder (I used mild but you could use a hotter one if you like)

400g minced lamb

100g frozen peas

Salt and pepper
700g potatoes, peeled and diced

Flavourless oil for frying

½ tsp cumin

½ tsp ground coriander

½ tsp black mustard seeds

1 tsp dried fenugreek leaves

½ tsp turmeric

1 small onion, finely chopped

2 garlic cloves, chopped

Salt and pepper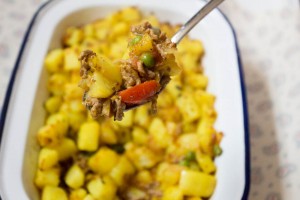 Method
Start by making the lamb curry. Add the garlic and onion to a pan with a drizzle of the oil and fry on a medium heat until golden brown.
Add the lamb to the pan and continue to fry until well browned.
Add the tomato, tomato puree, curry powder and salt and pepper then cook for a few more minutes.
Stir in the peas and add around 100ml of water (enough to fill about halfway) then simmer the mixture until thickened. You want a little bit of sauce left.
While the lamb cooks start on the potato topping. Add the potatoes to a pan of cold salted water then bring to a boil. Boil for 6-8 minutes or until they are just tender. Drain and put to one side.
Heat 1-2 tbsp of the oil over a medium heat in a large frying pan. Add the onion, garlic, fenugreek, cumin, coriander and mustard seeds and fry for 6-7 minutes.
Add the turmeric to the pan with some salt and pepper then add the potatoes and mix everything together well.
Continue to fry the potatoes in the pan with the spices, you may need to add a little extra oil to stop it sticking, until everything is nicely coated and starting to turn brown at the edges.
Remove from the heat and put to one side.
When the lamb mixture is ready put it into a large baking dish. Add the potatoes on top then bake in a preheated oven at 180C for 25-30 minutes.
You can keep the lamb and potatoes separate then assemble the pie at the last minute before putting it into the oven.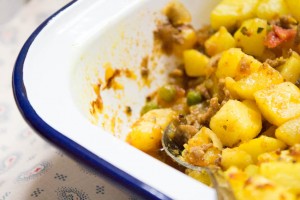 When you're cooking and assembling this it smells so good and when it goes into the oven it's the kind of dish that wafts through the house and gets your mouth watering! The lamb, onion and pea mix is spicy, slightly sweet and meaty and the Bombay potato being in cubes rather than mash gives it a different texture. It's great to chuck in the oven and forget about; the worst that will happen is a more brown and crispy top (unless you completely forget about it of course). It's tasty, not too complicated to make and is something I'll definitely be making again.
This is a sponsored post and I was reimbursed for my time and ingredients. All opinions and words are my own. Thank you for supporting the brands that support me.