You would have thought that a burger lends itself well to good photo-ability. For some reason when it comes to taking a picture of a burger it never looks quite how I imagine it will. No matter what I try the burgers always shrink leaving even the smallest buns looking far too big. There is either too much or not enough salad so although I make them sort of regularly I rarely blog about them or take a picture. However, when the below recipe came through for Swedish burgers with

Västerbottensost cheese I couldn't resist.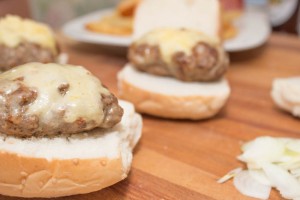 Recipe from Västerbottensost cheese as part of their 'Swedish summer to remember'.
Ingredients
You will need (for two):
350g minced venison (or beef)

1 rasher fried bacon, chopped

1 tsp crushed juniper berries

Salt and pepper

V

ästerbottensost cheese, grated

Buns of your choice and salad and condiments to serve
Method
Put the venison mince into a bowl and add the chopped bacon, juniper berries and salt and pepper.
Give everything a really good mix then form into four burger shapes (I made quite small ones).
Heat a pan to high and add a little oil to the pan. Fry the burgers until lovely and brown on the outside and cooked through. For the last few minutes of cooking add the grated Västerbottensost and allow to melt.
Serve the burgers with your favourite burger toppings.

I loved the bacon chopped up inside the burger as it gave the lean venison some fat. The juniper berries added a great undertone too. As usual the burgers shrank when I cooked them but the bun to burger ratio was still pretty good. A few slices of raw onion was all I added as they were really flavourful. The Västerbottensost is sort of like Parmesan but not as crumbly and has more sourness than some of the 'sweeter' cheeses you can get. If you're going Swedish this summer, it's well worth a try.
Thank you to Västerbottensost for the sample. All opinions and words expressed are my own.