I'm often a bit slow on the uptake. Pulled food, more specifically pulled pork, has been doing the rounds for some time now and it's not something that I had attempted. Yet. I wanted to make an Asian coleslaw that used some spring carrots (I demoed this at Eat Reading Live) but wasn't too sure what to serve it with. It seemed an ideal time to attempt some sort of pulled pork. If, like me, you can't be bothered with pulling anything I think this would be fantastic with some leftover roast pork or chicken in a nice soft roll.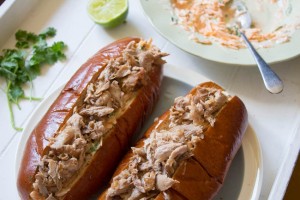 Ingredients
You will need (for two buns):
Handful spring carrots, peeled and grated
Thumb sized piece of fresh ginger, finely grated
2 tbsp mayonnaise
2 tbsp crème fraîche
Juice 1/2 lime
Small handful fresh coriander, roughly chopped
Salt and pepper
6-8 baby back pork ribs (preferably in some sort of spicy/Asian marinade)
Buns to serve
Method
Start by roasting your ribs. I chose to use ribs because they are cheap and if you get good ones they have a nice amount of meat and fat on. I got mine from the farmers' market and threw on some piri piri marinade that was hanging around in the cupboard. The lady at the market said that 160C for 45-50 minutes would be about right. Check what your butcher recommends.
Remove the meat from the ribs. It's not the neatest task in the world; I found a fork, knife and hands all very useful. Put the meat to one side.
Make the coleslaw by mixing together the grated carrot and ginger then add the mayonnaise, crème fraiche, lime juice, coriander and some salt and pepper.
Fill the buns with the coleslaw and meat and tuck in.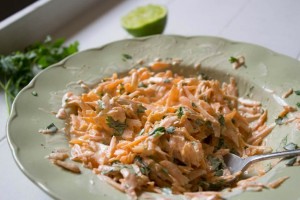 The rib meat wasn't as tender and juicy as I'd envisaged and I think this was because the ribs were roasted more than slow roasted. I'm not sure I'm patient enough to wait for slow roasting! There was a surprising amount of meat that came off the ribs though so the proportions of meat to coleslaw to bun were perfect. The coleslaw was fresh and crisp (I can't eat enough coriander) and is a great way to use up sweet spring carrots by doing something different.