I really like duck; usually in a pancake with plenty of spring onion, cucumber and hoisin sauce. If it's on a menu in a restaurant I will normally order it because I love the flavour. Gressingham (the remarkable duck people) got in touch to see if I'd like to come up with a recipe with some of their duck and I thought it was a great opportunity to have a go at cooking something I enjoy eating but don't cook that often. Ramen is something that I find both cleansing and filling and love that you can add whatever you like to it. This pulled duck ramen is a great way to use leftover duck and is really quick and easy to make.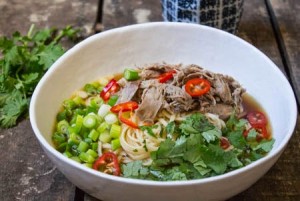 Ingredients
You will need (for the roast duck):
1 duck

1 tbsp five spice mix

Salt and pepper




For the ramen (for two bowls of ramen):
Reserved shredded duck

2 garlic cloves

2 tbsp soy sauce

750ml chicken stock

250g dried noodles

Sesame oil

5 spring onions, sliced

1 small chilli, finely sliced

Large handful coriander, roughly chopped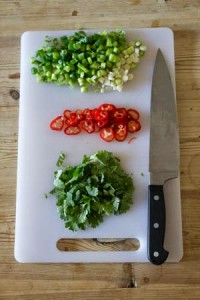 Method
Start by roasting the duck. Preheat an oven to 200C and remove the giblets from your duck if it has them.
Weigh the duck then calculate the roasting time; 20 minutes for every 500g plus an extra 20 minutes. Gressingham have a guide to roasting here.
Rub the duck all over with salt, pepper and the five spice then put the duck onto a roasting rack over a tray and into the oven for the required time. 
Remove from the oven and carve up as normal for a roast (leaving some meat for leftovers for the ramen) or leave to cool and shred the meat. I found it really easy to shred as it pretty much fell apart after it was roasted.
I roasted the duck the evening before and used half to accompany a mini roast dinner before shredding the other half for the ramen the next day.

For the ramen get a large saucepan out and add the chicken stock, garlic and soy sauce. Bring the broth to a boil then simmer gently for a few minutes. Taste and add plenty of pepper and extra soy sauce if needed. Keep on a low heat while you make the rest.
Cook the noodles according to packet instructions then drain and drizzle with a little sesame oil to stop the noodles from sticking.
Chop up the onions, chilli and coriander.
Arrange the noodles in a bowl with the duck and vegetables on top then ladle in the hot stock.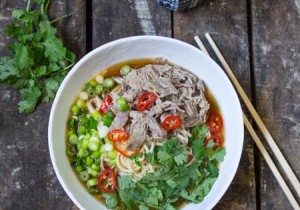 I think the colours in this ramen are fantastic; it's so vibrant in appearance that you know it's going to taste good before you even start. I like how people can add their own amount of onion, chilli, coriander or whatever you like so that everyone has a slight variation of the same dish. I also like that I can arrange the vegetables just so on my chopping board! The pulled duck in this was so full of flavour and worked so well with the fresh vegetables and salty, garlicky broth. For something quick and easy to make, this is one of my favourite dinners. I think this would work equally well if you used a duck breast rather than leftover duck; just fry it so the skin is really crispy. 
This is a sponsored post and I was reimbursed for my time and ingredients. All opinions and words are my own. Thank you for supporting the brands that support me.