Last week I jetted off to Madrid in search of churros, tapas and sunshine. I managed to get three out of three so no complaints from me. Around a two hour flight from London it's far enough to be 'away' but not too far stuck on a plane. Before I went I knew next to no Spanish other than what I had learnt from watching Fawlty Towers so you can imagine my delight when, on arrival at the hotel, the receptionist's name was Manuel. We landed late afternoon, had a quick glass of vino tinto and then got some rest ready to explore the next day.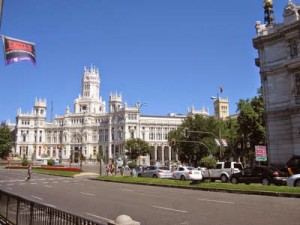 Madrid itself is a mixture of old grand buildings and modern ones in between. It's easy to walk around and explore central Madrid but on the outskirts the helpful maps disappear so the guide book was indispensable. The weather was fantastic for the four days and I found it very easy to get into the relaxed way of dining which basically involved eating all day.

One of the things I wanted to try was chocolate con churros; deep fried batter (not sweet or savoury) which you dip in thick, bitter dark chocolate. You can also have cafe con churros and dip the batter in coffee. The first morning, with incredibly rusty language skills, we ordered churros in a very local cafe; one chocolate and one coffee. It cost €4.20 for both of them. The churros were slightly greasy and the chocolate very bitter, a great way to start the day. The next morning we made a long trip over to the Chocolateria de la Puerta del Sol (above right) where the churros were a slightly different shape and less greasy. The chocolate was slightly sweeter. Both good places but I prefer the more bitter chocolate.
On a walk back to the hotel we stopped off at a local beer bar, really modern and simple inside, and sampled some Spanish Brabante beer. I loved that everything always came with crisps. The lager and gold beers were very nice and the carta de cervezas was full of information about the brewery and beers.

Walking around the central area of Madrid it's hard to know where to stop for food; there are so many places and it's hard to tell which are authentic or tourist orientated. I chose the above restaurant (La Marmita Taberna) because of the fabulous carved wooden exterior. We ordered albondigas (meatballs) and chorizo salchichones (chorizo from a particular area of Spain) which was a bit milder than the chorizo I've had before. Of course we also had a side of patatas alioli; the sauce for which was more like a garlicky ranch dressing than the mayonnaise I was expecting and was delicious. The jug of sangria was so good; loads of fruit and ice which made it very easy to drink but was very welcome at a particularly hot lunch time.
For dinner we went to Taberna del Volapie which I think is a chain but everything we tried was wonderful. The gazpacho had grated boiled egg and chunks of jamon iberico on top and there was a very soft sheep's cheese full of herbs at the same time. The croquettes had a ragu in white sauce inside which melted on the first bite. There was also a chickpea stew which I think was my favourite dish of the whole holiday; full of celery, chorizo and pork belly. I ordered dessert which was a big slightly sweet cracker with honey and fennel seeds served with cheese ice cream. I thought it was a bad translation and they meant cheesecake ice cream. No, they meant sheep's cheese ice cream; it was actually a great combination.

The next day we went to the Plaza Major to find the glass market nearby. I loved the market; you wander round picking things you fancy trying then find some room at the tables to eat what you've got. It was bustling, busy and full of tapas, paella, cheese, cured meats, beer, wine, juices, cakes, fruit, everything really! I had a lovely piece of manchego drizzled with honey and fresh oregano.

For the last night we treated ourselves and went to a fancy restaurant (Jose Luis) to try what the locals actually eat. We ordered a fantastic bottle of rioja to accompany the meal and the waiter even complimented my Spanish, at least that's what I think he said. We shared mushrooms to start which came with a thick white sauce on top which had been grilled until brown in patches. The mushrooms were drizzled with honey then the white sauce, so heavy with raw garlic it was almost spicy, was served on top. The best mushroom dish I have ever had and one I tried to recreate at home. I followed this with hake, steamed potatoes, parsley and a wedge of lemon. There was nothing else on the plate and it was so simple and so tasty. Chocolate cake for pudding which was surprisingly light.

I really enjoyed my trip to Madrid, I'd love to go back as I didn't manage to go to half the places I wish I had!