I have been thinking for a while about posting some 'themed' recipes on here. The food I eat at home is rarely expensive so I know that almost everything I cook is reasonably priced. This means I can then buy the organic or free range versions of ingredients without breaking the bank. Most of the reason I eat cheaply is because I mostly cook vegetable based meals. If I do have meat I use cheap cuts, or less of it, but I do very occasionally have a fillet steak blowout. A new outlook for me recently is that humble doesn't have to be hum drum. Hence the first in a new series of blog posts which coincide with my new Saturday morning radio slot on BBC Radio Berkshire (very excited!) where I will create tasty, easy recipes to feed 4 people for £6 or less. First up, these Caribbean spicy bean burgers.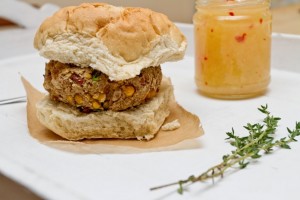 Ingredients
You will need (for four):
| | |
| --- | --- |
| For the burgers – | |
| 2x 400g cans of mixed beans, drained | £1.58 |
| 50g breadcrumbs | £0.30 |
| 2 tsp ground allspice | £0.10 |
| Few sprigs thyme, leaves only | £0.10 |
| 1 egg | £0.35 |
| 3 spring onions, sliced | £0.35 |
| Salt and pepper | £0.02 |
| | |
| For the pinepple sauce – | |
| 1x 227g canned, chopped pineapple in juice | £0.43 |
| 125g caster sugar | £0.19 |
| 175ml water | £0.00 |
| 4 tbsp white wine vinegar | £0.18 |
| 2 garlic cloves, crushed | £0.05 |
| 1/2 scotch bonnet chilli, roughly chopped | £0.08 |
| 2 tsp cornflour | £0.03 |
| Salt and pepper | £0.02 |
| | |
| 4 crusty white rolls | £1.20 |
| | |
| Total | £4.98 |
Method
Put the drained beans into a large bowl and roughly crush them with a masher or the back of a spoon.
Add all the remaining burger ingredients, except the egg, and thoroughly mix together.
Taste the mixture to check the seasoning and when you are happy crack in the egg, mix well and then form into burger shapes.
Put to one side while you make the pineapple sauce.
Drain the pineapple and then put into a saucepan with all the remaining ingredients except the cornflour.
Bring the mixture to the boil, stirring occasionally, and boil for around five minutes.
Mix the cornflour with a little water to make a paste and then mix this into the sauce.
Bring the mixture back to the boil then remove from the heat.
Blend the pineapple sauce until mostly smooth but with some pineapple chunks still left.
Put to one side to cool down.
Heat a grill to high.
Put the burgers onto some baking paper on a tray and then grill for a few minutes on each side or until hot throughout and crispy on each side.
Serve the burgers in the crusty rolls with a healthy dollop of pineapple sauce.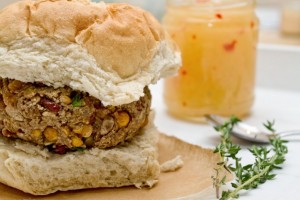 I was a little sceptical about how filling these Caribbean spicy bean burgers would be but because of the huge amount of beans they were incredibly satisfying. The burgers had a great meaty texture and a punchy flavour from the thyme and allspice. The sweet, vinegary, chilli sauce was my tropical answer to the ubiquitous tomato sauce that might normally be served. Using beans rather than meat does give this burger a slightly healthy tone but if you feel hard done by you can always serve it with some sweet potato wedges if you fancy.