I prefer cider in either hot weather so I can have it nice and cold, or when it's cold outside so I can have it nice and warm. How do you prefer yours? There seems to have been much more interest recently in cider with lots of new brands popping up so it was great to have a chance to see behind the scenes with a cider maker himself. Ciderniks is a small cider maker based in Kintbury and Nick opened up his cider making empire for the curious to have a look around.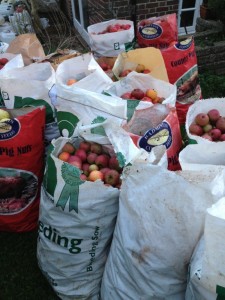 Nick's garden was absolutely full of bags of apples; some from here, some from there but he knew where each bag had come from. It was remarkable how many apples he already had with the promise of more on the way. It was also very surprising how much juice each bag will give you; I thought it would have been a lot less.
The main bit of kit is impressively simple: apples go in, juice comes out. The whole process is really interesting to watch and doesn't take long from start to finish. The apples are washed before being mulched up. The mulch is then layered up between cloths and wooden boards until there is a pile of around nine (I think!). The pile is then pressed and out comes the juice.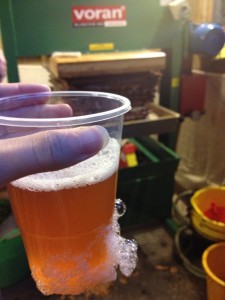 The apple juice that came out was absolutely delicious; a great mixture of cookers and eaters gave the juice a sweet and sharp tang. The thing about Ciderniks is the simplicity of it. Once the juice is ready it's left to ferment of its own accord with no interference or additives of any kind. The cider itself seems much more honest; a hark back to a golden age of cider making.