From the outside the
PipsDish
restaurant in Covent Garden looks simple and understated, welcoming and homely. Inside is a similar story with a few wooden tables and chairs and big kitchen at the end. The kitchen gave me pretty bad kitchen envy with the piles of crockery on the huge shelves. It's a nice place to be as there's plenty to look at as people bustle around and you start to notice the fresh ingredients and food dotted around the place.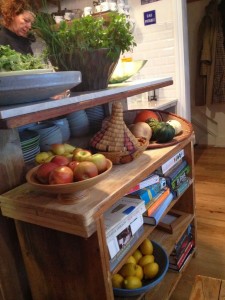 I am a big fan of the idea of PipsDish. They have two options for starters and two for mains; one vegetarian and non-vegetarian for each. For a starter and main at lunch it is a standard £10. Simple and uncomplicated and I think would encourage people to try things they may not otherwise have done.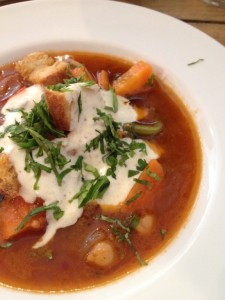 I started with a chorizo and chickpea soup. It had been a bit of a windy and chilly day so this mildly spicy, full of flavour soup was exactly what I needed. The soup was laden with big chunks of perfectly cooked vegetables, nice bits of bread and punchy chorizo. The sour cream and coriander on top were an added pleasure.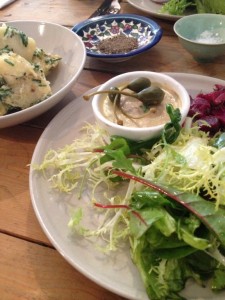 The main for that day was chicken liver parfait with toast, salad, beetroot and potato salad. I really liked all the elements of this dish, the parfait was just to my taste with a great silky texture. The generous portion of crisp salad was a welcomed refreshment. The beetroot was earthy and slightly acidic and the potato salad was one of the nicest I have ever had. I asked for the secret to the potato salad; it's all about homemade mayonnaise and real generosity when it comes to adding fresh herbs.
I was pretty full after the soup and the parfait but it would have been rude not to try a pudding; especially as it had such a charming name. A plum fumble. Half fool and half crumble it was a lovely way to finish the meal. The selection of cheeses from Neal's Yard Dairy was delicious (I managed to sneak a little sample of each) served simply with some crisp breads and a fresh pear.
The food at PipsDish is the kind of food that I really like and the style that I would cook myself. The feel is very unfussy but well executed. Really lovely flavours and textures leaving you wanting nothing more. The other great thing about it is that you're very unlikely to eat what I had when I went so it's all a bit of an adventure.
This restaurant has closed since this post went up.