I have been noticing more and more things in the hedgerows. Perhaps it's due to the purchasing of a foraging handbook which has become the mainstay of my bedside table or maybe my observational skills have drastically improved. Whichever the reason it has meant even more slowing down and stopping on a walk; not irritating if you are me but rather tiresome if you are walking with me. Apparently.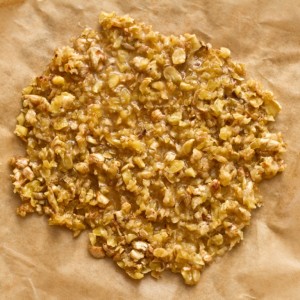 What used to be a half an hour walk can now involve an in depth ditch investigation or an alarmingly thorough search of a thicket and the whole shebang now takes at least an hour. I don't tire or suffer from any dilution of enthusiasm even if it's a walk I have done many times before. Over the last week I have found: wild hops, several crab apple trees and even a quince tree. I'm always looking up; in the physical sense rather than being insatiably optimistic.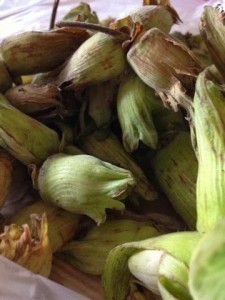 Ingredients
To make a reasonable slab of brittle you will need:
100g wild hazelnuts or cobnuts, shelled, see notes below

50ml water

125g caster sugar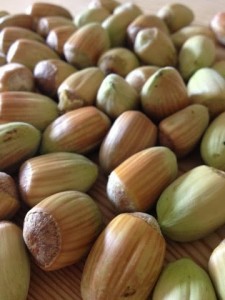 Of course if you have wild hazelnuts (see picture below) they need to be shelled. I managed to acquire a nutcracker after much searching of the whole house and I was ready to get cracking. I don't think I've done much else as terrifying and dangerous; the shards that came flying off went in all imaginable directions, I got some in my eye, I pinched my hand in the nut cracking contraption. Honestly, I've never known a boring job be quite so eventful. I thought the terror was over and then I stood on some shards that had ended up on the floor.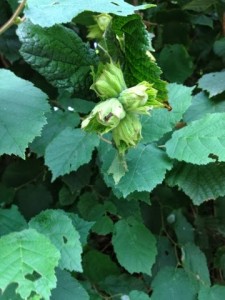 Method
When the nuts are freed from their shells (whichever way you choose although I would recommend outside and with plenty of bravery) put them in a single layer on a baking tray. Put the tray into a preheated oven at 200C for around 5-10 minutes or until the nuts are nicely toasted. 
Remove them from the oven, allow to cool and then chop the nuts up.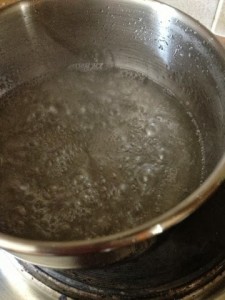 Put the water and sugar into a small pan over a medium heat and then let the sugar dissolve, stirring occasionally. When the sugar is fully dissolved turn up the heat and then boil the syrup for about 10 minutes or until a golden/amber colour. 
Remove the pan from the heat and immediately tip in the chopped nuts. Stir it all together quickly and then turn the mixture out onto some greaseproof paper.
Leave to set and then break up to eat.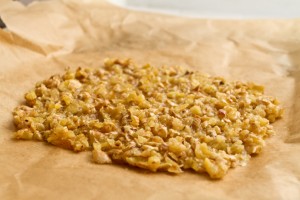 I was really rather pleased with this. I do have to say that I mixed together some wild hazelnuts that I had picked with some cobnuts that I picked up from my local butcher. I would have ended up with a desperately poor amount of brittle elsewise. The nuts themselves had such a fresh, almost milky, flavour without even a faint hint of bitterness. The gloriously golden coating was a very nice vehicle to hold it all together. A lovely reward for all the walking and inevitable neck ache.