When it starts getting a bit colder and the evenings are getting darker earlier this seems to coincide with me increasing my calorie consumption. I like to think that I'm planning for the winter and storing some (ahem) insulation but really, I think we all know, I'm just plain greedy. To counteract this I have done a bit of exercise; I'm as shocked as you. With exercise comes the desire for cleanliness and a lack of guilt so that is what this refreshing drink is all about.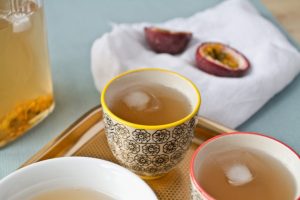 Ingredients
You will need (for around 1 litre):
3 tsp jasmine tea
1 tsp palm sugar
3 passion fruits
Ice cubes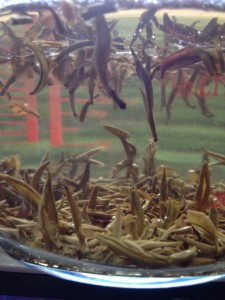 Method
Start by steeping the tea in around 1 litre of just boiling water. I think the tea looked a bit like the bottom of a scary lake when it was in the jug.
After around three minutes strain off the tea into another jug. I find if you leave it longer it becomes bitter.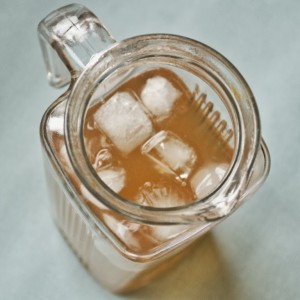 Add the palm sugar to the tea and mix.
Squeeze in the juice and seeds of the passion fruits and then leave to cool.
Add ice when you're ready to serve.
It came out a rather pretty colour and it smelt divine. The jasmine scent and flavour was heavenly and floral but when mixed with a very slight sweetness from the palm sugar and a little sourness from the passion fruit it was wonderfully refreshing. After a cup of this I felt virtuous, cleansed and was convinced that the 'goodness' would make up for any previous naughtiness I might have indulged in. Then I promptly ate several flapjacks. I mean, if I'm too well behaved I'll just be shivering all winter. That's my excuse anyway.