You can't have Valentine's Day without a little chocolate. This tart is great because you can make it in advance and leave it in the fridge so there is no last minute pudding fretting! It's beautifully rich and very easy to make; made even easier if you use a food blender for the pastry. If pastry is your nemesis, it used to be mine, I have a previous post that will make you feel much more relaxed about constructing this tart.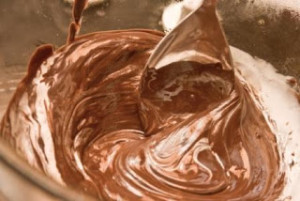 Start by making the pastry. Blend 50g cold butter with 100g plain flour until it resembles breadcrumbs. Add 15g caster sugar and 25g chopped, toasted hazelnuts and then bring the pastry together with one small egg. Persevere it will get there in the end but you can add a little cold water if you think it needs it. Wrap the pastry in cling film and chill in the fridge for half an hour. I would recommend making the pastry when you're as sure as you can be that the phone won't ring and the doorbell won't go because otherwise there'll be pastry all over the place.
Roll the pastry out on a floured surface, line a 20cm loose bottom tart tin and prick the base all over with a fork. I leave a little extra pastry over the edges and trim them off when the base is cooked; pastry can shrink as it cooks. Line with greaseproof paper and fill with baking beans. Blind bake for 15 minutes at 190C, remove the baking beans and return to the oven for a further five minutes. Remove from the oven and once cool, remove from the tin. Using a loose bottom tin makes this so much easier than having to try and prise it out with a carefully placed knife.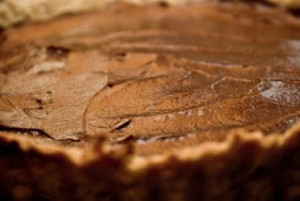 Next make the ganache. Put a bowl over a pan of simmering water so that the bowl and water don't touch. Melt 100g dark chocolate in the bowl, remove from the heat and stir in 150ml of double cream. The mixture should be quite thick and easy to spread over the tart base. Once the tart is done, put it in the fridge to set.
If you're feeling particularly generous you could make double the amount of ganache, use one half for the tart and the other half for making truffles. Chill the half not in the tart and make the truffles using a melon baller or be brave and roll them by hand. You could give them to your Valentine but I would suggest eating them yourself is the best option; someone has to check they're delicious before handing them out willy nilly.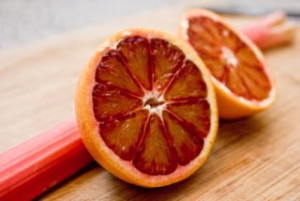 There's plenty of rhubarb around at the moment and it would be a shame not to use some; it's pink, it's seasonal and it makes a fantastic sharp accompaniment to the tart. To make the compote, squeeze the juice of a blood orange into a pan with one stick of chopped rhubarb and a tbsp of sugar. Leave over a low heat to let the rhubarb soften. Once soft, increase the heat until the compote has thickened. In case you're thinking the last thing you need is some final cooking while your diner waits, it only takes five or ten minutes, it's minimal effort and you can even ignore it while it's on the low heat. Don't forget about it though.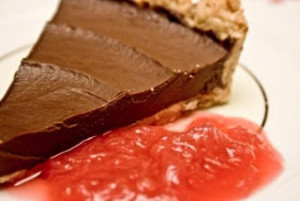 What an end to the meal. Soft, creamy, rich chocolate with a nutty, crispy base and each spoonful accompanied with tangy, sweet rhubarb and orange. Wonderful.
I'll be honest and say that after the risotto, beef, potatoes and chocolate you'll probably be feeling quite full. Perhaps the best ending for both parties involved is a romantic DVD and a Rennie.