Rhubarb makes a wonderful crumble and a devilishly good fool. Its astringency can cut through the most fatty of foods and its delicate colour is about the only thing around at the moment that isn't green or brown. It's also citrus season with Satsuma's, tangerines and blood oranges galore. It seems a shame to eat all the members of the orange family just for their cold preventing benefits.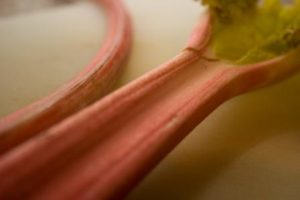 I was one of those children who would pick out the sourest, most mouth puckering and sharpest of sweets. Sherbert wasn't quite tart enough for me and so rhubarb and custard sweets were my saviour when all the sour apple ones had gone. They soon became my favourite; when you were turning the sweet over in your mouth you never knew if you were going to get a burst of sour or a shot of sweet. Although I do enjoy one of these sweets occasionally I have moved on to a more grown up version.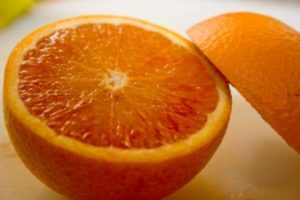 This is the very first of the English forced rhubarb I could get my hands on. It was nestled amongst a load of potatoes, swedes and cabbages; poking its pink feet out asking to be picked up. Admittedly my first thought was crumble but on my travels I walked past a sweet shop and my thoughts turned to rhubarb and custard.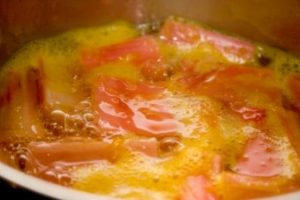 I had a couple of blood oranges knocking about at home and I thought they would add a sumptuous citrus note to the rhubarb. Because I bought the rhubarb so early in the season it was pretty pricey but luckily two stems works out to be about the perfect amount for two. I only needed one blood orange because they gave a lot of juice. I have to confess I bought some fresh custard for this, I think it's pretty good if you want an easy pudding like I did.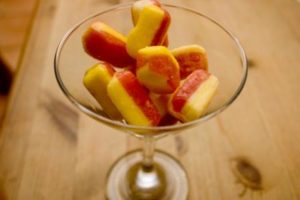 Start by chopping the rhubarb into roughly inch sized pieces. Put these into a pan with a little water and some sugar. Put the heat on low. While the rhubarb starts cooking, add a little orange zest and then squeeze in the juice of the blood orange. The rhubarb doesn't take long to cook so watch it doesn't turn to a mush. 
Remove the rhubarb and put to one side. Turn the heat up to reduce the liquid left in the pan. Check the sauce for sweetness but remember you don't want it too sweet, that's what the custard is for. Put some custard in a bowl and pile on the rhubarb before pouring over the sauce.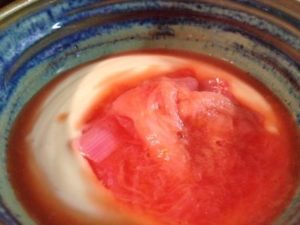 For something this easy you couldn't ask for more. Simplicity at its absolute best. Creamy, sweet custard with a hint of vanilla; sharp, intense flavour and soft textures of rhubarb; citrus, tang and a slight syrupy quality to the sauce. You decide the level of each flavour with every spoon. It's almost a method of transport back to simpler times. 
I haven't made or eaten anything this colour since summer. A blushing bowl of pure pleasure that lets you know spring is just round the corner.