I really like this curry sauce. A lot. I've been working on my baked cauliflower curry for a while now and I'm so pleased with it! Baking the cauliflower gives the curry a delicious nutty taste. The flavour and texture of the sauce when it's blended is really similar to a sweet korma sauce, but all the sweetness here comes from vegetables. It's a really flexible recipe too; there are some suggestions for changing it up at the end.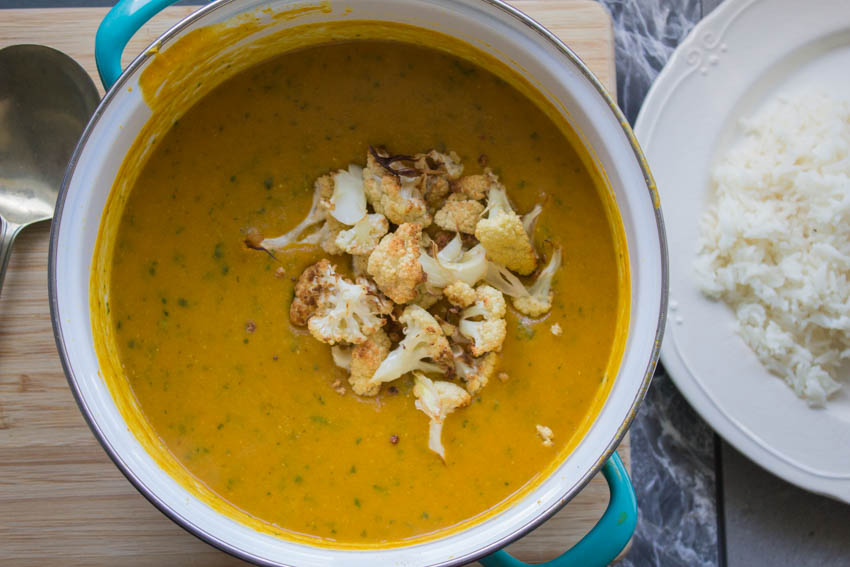 Ingredients
You will need (for four):
1 small cauliflower, cut into florets
1-2 tbsp olive oil, for cooking
Salt and pepper
For the curry sauce:
1 small onion, finely chopped
2 garlic cloves, crushed
2 generous tbsp curry paste (I used a korma paste for this curry)
Olive oil for frying
200g red lentils
2 tbsp tomato paste
500ml water
400ml (one tin) coconut milk
350g (approx) butternut squash and/ or sweet potato, peeled and diced small
Salt and pepper
2 nuggets frozen spinach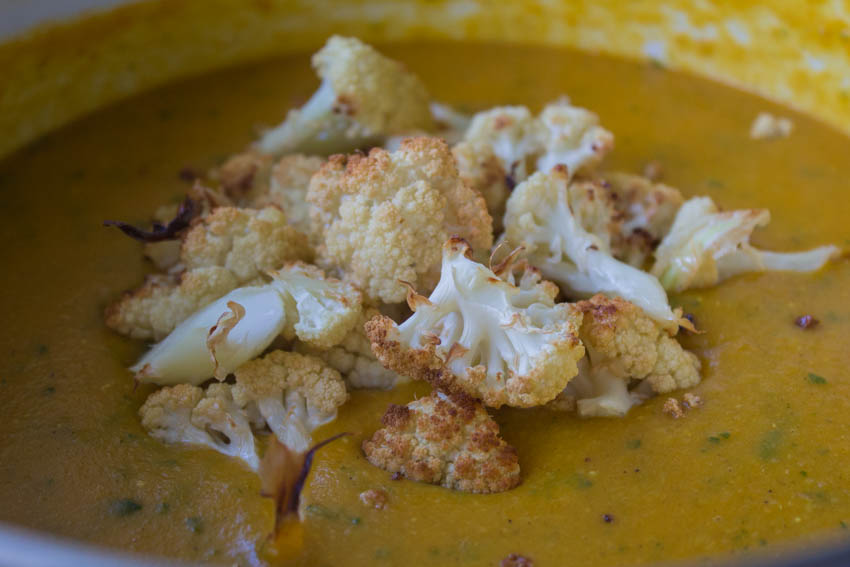 Method
Start by getting an oven on at 180C. Add the cauliflower, oil and seasoning to a baking tray and mix everything together well with your hands.
Put the cauliflower in the oven and roast for 20-30 minutes or until nicely browned.
While the cauliflower cooks, make the curry sauce.
Get a large lidded saucepan on a medium heat and add a glug of oil and the onion. Fry for five minutes until the onion is starting to soften.
Add the garlic to the onion and continue to fry for a few more minutes.
Then add the curry paste to the onions and fry for another couple of minutes, stirring often.
Tip the lentils, water, tomato paste and coconut milk in to the pan. Stir well and then bring the pan to the boil. Reduce the heat to simmer and leave to simmer for 10 minutes with the lid on.
Add the sweet potato and butternut squash to the pan and continue to simmer for another 10 minutes with the lid slightly off.
Finally add the frozen spinach to the pan along with the cauliflower from the oven and bring everything to a gentle simmer, without a lid.
Or, if you prefer (as I did), blend the sauce until smooth once the sweet potato is cooked and then add the cauliflower and spinach to the sauce.
Check the seasoning and serve with rice or bread.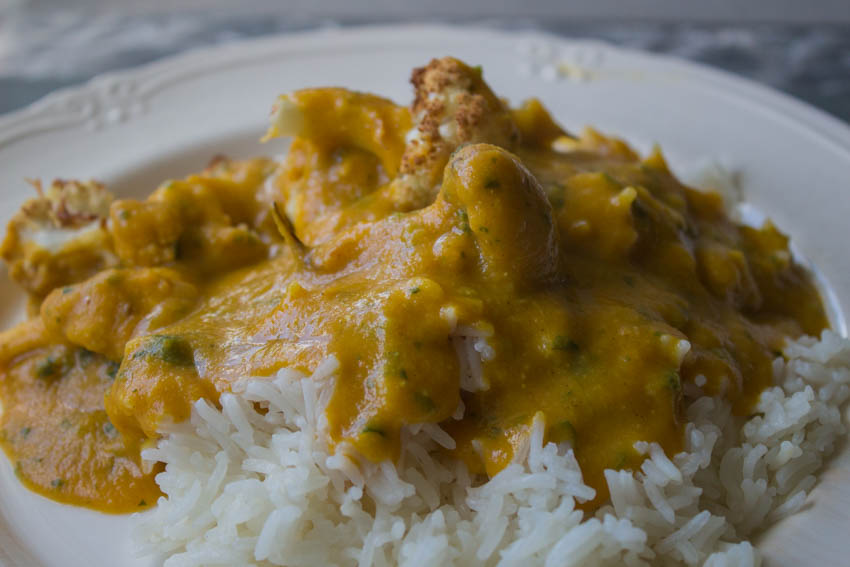 The beauty of this curry is that you can use whichever curry paste you like to suit your taste. I have also tried this curry with Thai red paste and it worked really well. You can add almost anything to the curry sauce: chicken, vegetables, toasted nuts or whatever you have! Blending the sauce gives this baked cauliflower curry a thick, glossy sauce to stir through rice or scoop up with bread.