I love paneer. If I see a menu and it has paneer on it, I will order it without a doubt, preferably alongside a thick, garlicky daal of some description. As the cheese itself is quite flavourless it lends itself to being mixed with punchy flavours and spices. This Tikka Paneer and Pilaf is one of those meals which you start in the morning before work (mixing the marinade) and then finish off in the evening. And, as usual, it's ready in around 30 minutes and won't break the bank; a perfect vegetarian midweek meal.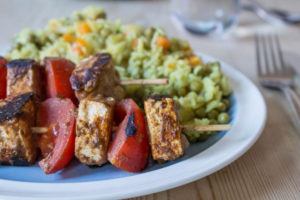 Ingredients
You will need (for four):
225g paneer cheese, cut into cubes £1.50
3-4 medium tomatoes, quartered £0.40
2 tbsp tikka paste £0.15
2 tbsp plain yoghurt £0.15
250g basmati rice £0.50
2 carrots, peeled and diced £0.15
1 onion, finely chopped £0.10
1 tin peas, drained (use frozen if you can, I don't have a freezer!) £0.40
3 cardamom pods £0.05
1 stick cinnamon £0.05
1/2 tsp turmeric £0.05
Salt and pepper £0.05
450ml water or vegetable stock £0.10
Oil for cooking £0.10
Method
Total price £3.75
Mix together the tikka paste and yoghurt then add the paneer cheese. Stir it all together making sure it's well coated then put in the fridge. You can do this the night or morning before you start cooking, or half an hour before if you need to.
When you're ready to start cooking thread the tomato and paneer onto skewers however you like and leave to one side.
Get a large saucepan onto a medium heat and add a little oil. Stir in the carrot and onion and leave to soften for around 10 minutes.
Tip in the spices, rice and stock then bring everything to the boil. Reduce to a simmer then leave, covered for 10-15 minutes. Check the rice after this time to make sure it's cooked then add the peas and some salt and pepper. Leave the lid on to keep everything warm.
Get a frying pan onto a medium-high heat and add a little oil. Add the skewers and cook until crispy. A little charring here and there only adds to the flavour.
Serve up when the skewers are done. It's great if you have some crisp iceberg lettuce on the side.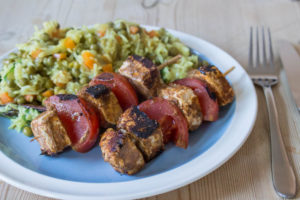 I think this would be delicious on a barbecue if you fancied giving it a try; it would really add to the smoky, charred flavour. I also think this would be worth a try with brown basmati rice, it would just need cooking for a bit longer. You could of course use any curry paste that you like depending on if you wanted a bit more chilli heat; the tomatoes would also be delicious if they were peppers, onions or courgettes. Basically if you have some paneer, some skewers and some vegetables and rice you're not far off having this for your dinner tonight!