I rather like tea. There are times where no matter how terrible the situation a cup of tea can remedy it in an instant. If the first cup doesn't work then you move onto a mug. If the mug is failing to turn that frown around then you move onto a larger receptacle. And so on and so forth until the only solution is to fill a bath tub with warm tea and have a little soak. That way you've got the best of both worlds.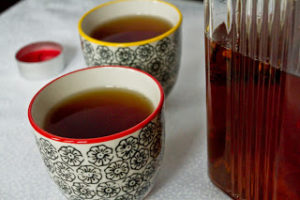 No matter what the tea there is always an appropriate occasion for it. For example I would start the day on a strong single blend, have an Earl Grey in the afternoon and a fresh green tea in the evening. Each to their own I reckon. Over the festive period I find my tea consumption reduced in favour of mulled wine, sloe gin and hot chocolate. Of course, I don't start pouring gin over my cornflakes but you get the picture. In order to feel festive and start wading through the mountains of tea I have acquired over the last few months it was time to try making a Christmas tea.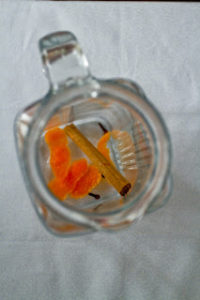 You will need (for around a litre):
Orange zest from half an orange
A cinnamon stick
One star anise
Three cloves
Tea, as strong as you like it
A little brown sugar
Put the orange zest, cinnamon, star anise and cloves into a jug. Make up some tea in a teapot to the strength you like it. When the tea has cooled a little pour it into the jug with the spices. Leave the spices and orange to infuse with the tea for a few minutes. Put a sprinkling of brown sugar into each cup and then pour the tea in to the cup.
You could of course remove the tea from the teapot and add the spices directly into the teapot but I quite liked being able to see all the flavours mix and mingle together.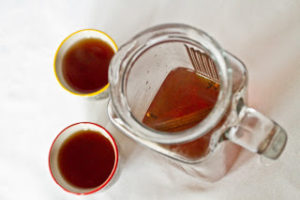 I have previously said I don't like sugar in my tea but using brown sugar with this mix gives each cup a lovely rounded caramel flavour. The tea had a deep, clear, brown hue which with the spices made for a wonderful visual and flavourful drink. This is a great alternative on those days where you are feeling festive but can't face another glass of mulled wine.