I used to really dislike horseradish, I just didn't understand why you would want to eat something that makes you pull a face similar to the one you would pull if someone trod on your foot. I had tried it before and had decided to avoid it at all costs from then on; until I ate some by accident in a mini Yorkshire pudding covered with rare roast beef and everything changed. If you're like me and you're also on Team Horseradish then you must try this recipe for horseradish celeriac remoulade. If you're not a fan of the fiery root then just leave the horseradish out; it'll still be tasty (just not quite the same).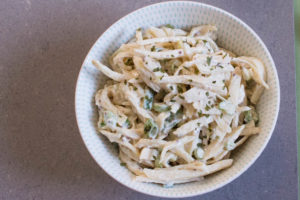 Ingredients
You will need (for two large portions or four smaller ones):
1 small celeriac
1 tbsp celery salt
4 tbsp mayonnaise
Juice 1 lemon
4 spring onions, sliced
1 tbsp horseradish
1 tsp wholegrain mustard
1 tsp dried parsley
Pinch pepper
Method
Having a celeriac in the kitchen means you'll have to attack it at some point and this is best undertaken with a big, sharp knife and plenty of care.
Start by peeling the skin from the celeriac; if it's a little one the skin should be thinner so this will be quite easy. You'll need to slice off any awkward knobbly bits from the rest of it.
Slice the celeriac thinly, around a pound coin thickness if you can, then layer up the slices on top of each other and slice these into strips. You ideally want matchstick sized strips of celeriac but if, like me, your patience wears thin then a few thicker bits here and there won't bother anyone.
Put the celeriac into a bowl and sprinkle over the celery salt. Mix it all together well then leave to one side for around half an hour.
Get a muslin or clean tea towel and put the celeriac in the middle. Gather the edges of the fabric up and then give it a really good squeeze to get as much water out as possible.
Put the dried celeriac into a bowl and add all the other ingredients. Give everything a really good mix before serving.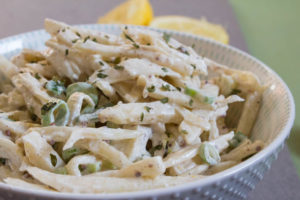 I served my horseradish remoulade with some steak and it would be delicious with salmon or smoked fish too. It's amazing how much the texture of the celeriac changes after it's been squeezed and its sweetness works really well with the horseradish. I prefer dried parsley than fresh in this because it adds an earthy, herby note and the lemon a lovely citrus freshness. Next time life gives you this knobbly root you know what to do with it.