Eating an orange as it comes is something I do not enjoy. Peeling it and eating it makes such a mess and there's pith everywhere; slicing it into segments and chewing the orange flesh from the skin isn't particularly pleasant either. However, slicing it and adding to desserts or using the juice is something that I think it worth the time. Nothing beats properly fresh orange juice. A nice glass of Saint Clements breakfast juice was on the cards with my latest delivery of oranges; a fantastically zingy way to start the day.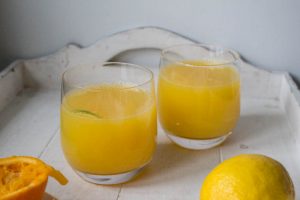 Ingredients
You will need (for 2 glasses):
3 large oranges
1 lemon
1 lime
Method
I find it easiest to squeeze fruit into a large jug so that the majority of the juice ends up getting caught and it's easy to pour out.
Squeeze the oranges and lemon into a jug and give it a quick stir. Careful to pick out any pips that fall in! I don't mind if any bits of orange or lemon flesh get into the juice but if you're not a fan of bits you can always strain it.
Pour into glasses and add a few slices of fresh lime. You could add a couple of ice cubes too.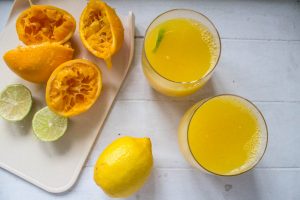 For such a simple recipe it works wonders to wake you up in the morning! All those fresh, zesty flavours really pack a punch and the lemon keeps the sweet to sour balance just right. I much prefer juice to a smoothie in the mornings so this is my perfect idea of a breakfast juice. You could add some sparkling water to turn this into a longer soft drink, or mix in a little gin or vodka for a cocktail. A sprig or two of fresh mint would be a delicious addition too.