It's bean season at the moment. There's runner, French, broad and all manner of other beans popping up in the veg box, at the farmers' markets and in friends' gardens. I love a perfectly cooked and simply dressed bean salad; a little drizzle of oil, a squeeze of lemon and a little seasoning. However, from time to time it's nice to do something different and this runner bean and tomato stew is a much slower way of cooking with green beans.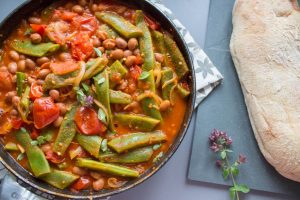 Ingredients
You will need (for four servings):
1 onion, sliced
Olive oil for cooking
2 garlic cloves, crushed
1 tsp smoked paprika
½ tsp cumin
½ tsp dried chilli
8 large tomatoes, roughly chopped
Large handful runner beans, sliced into finger sized pieces (you can use other beans here, French beans would just need halving)
2 tins borlotti beans, drained and rinsed
150ml vegetable stock
Salt and pepper
Few sprigs fresh marjoram or oregano
Method
Get a large frying pan onto a low/medium heat, add a little oil and the onions and fry gently for 15-20 minutes until well softened and just starting to turn golden.
Add the garlic and the spices and cook for a few more minutes.
Tip the tomatoes into the pan, turn the heat up to medium and leave the tomatoes to break down and soften for around 15 minutes.
Add the runner beans and vegetable stock to the pan and continue simmering for another 10 minutes.
Stir the borlotti beans into the pan and cook for a further 10 minutes.
Check the seasoning and add salt and pepper as needed. Pick the leaves from the oregano and stir these through just before serving.
Serve alongside some crusty bread.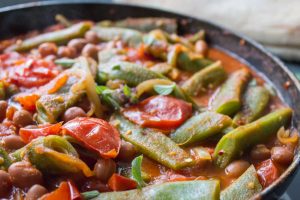 The lightly spiced tomato sauce works so well with the softened runner beans and hearty Borlotti beans. Using fresh oregano makes such a difference to this dish as you get such a wonderful punchy flavour. I ate most of this with a spoon and then tore off hunks of bread to mop up all the spiced juices from the bottom of the bowl. A fantastic stew, perfect for this time of year; a dish full of summer flavours.