When I go out and there is a charcuterie board on offer I struggle to turn it down. I find cured meat fascinating and it's one of my absolute favourite indulgences. One of my top five would have to be Iberico ham. I can't get enough of it although my waist and bank balance would probably encourage me to eat a bit less. I like to make an expensive ingredient go as far as possible so this Spanish inspired potato salad is an attempt to do exactly that.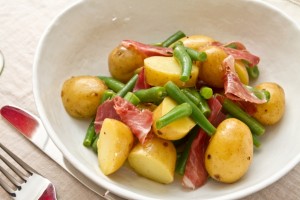 More and more I am cooking Spanish food and dishes. It's a cuisine I have dabbled in while dining out but not one that I am terribly experienced in; I've made a few paellas and tapas in my time but I'd like to delve deeper and cook some more unusual meals in the future. This dinner was a bit of a hodge podge mix of ingredients but it worked wonderfully well.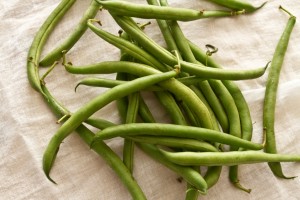 Ingredients
500g small new potatoes (I used Jersey Royals), scrubbed

Small handful green beans, sliced in inch sized pieces

As much Iberico ham as you can spare

Extra virgin olive oil

Sherry vinegar

1 small garlic clove

Salt and pepper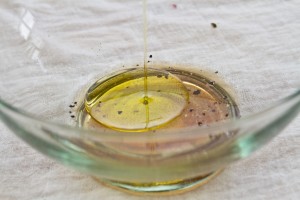 Method
This is a throw it together really simple recipe. Put the potatoes into cold salted water and bring the potatoes to the boil. When the potatoes are almost cooked, add the beans into the same water for the last 2 or 3 minutes of cooking.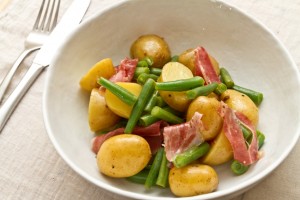 In the meantime mix together three parts oil to one part vinegar (make extra if you have some spare bread to dip in afterwards) then crush the garlic clove in and add the salt and pepper.
When the potatoes and beans are cooked, drain them and pour the dressing over to warm through. Serve up and top with the Iberico ham.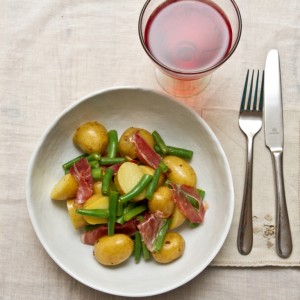 It's such a simple meal but it delivers so much flavour. Earthy potatoes, sweet beans, sharp dressing and creamy Iberico ham make each mouthful different in flavour and texture. It took around fifteen minutes from start to finish and with a nice glass of wine makes a delicious, quick Friday night dinner. Well with a bit of imagination you could be on the Andalucian coast.