I bought some smoked chicken from a local farm shop. I wasn't quite sure what I was going to do with it but it sounded too tasty not to try it. I planned to serve it with some cheese and chutneys but somehow I never got round to it. I certainly wasn't going to waste it and I thought, rather than serving it alongside something else, why not make it the star of the dish? Smoked chicken fried rice sounded like just the thing for a simple, no hassle budget meal in a flash. Turns out it's even better than it sounds.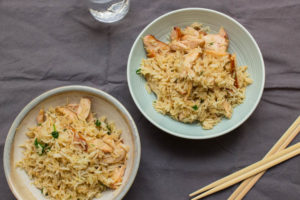 ingredients
You will need (for two):
1 smoked chicken breast, sliced thinly £2.30
150g basmati rice £0.22
Oil for frying £0.05
1 tbsp sesame seeds £0.12
2 cloves garlic, crushed £0.10
Few sprigs coriander, roughly chopped £0.12
1 tbsp dark soy sauce £0.10
Total: £3.01
Method
Cook the rice according to packet instructions, drain, then put to one side.
Warm a wok on a medium-high heat and add a little oil. Add the sesame seeds and garlic and fry for 30 seconds.
Add the smoked chicken and fry for 30 seconds more, to warm through.
Pour in the soy sauce, rice and coriander and give everything a really good mix before serving.
Optional – you could use scrambled egg instead (or as well as) the chicken. I have done in the past and it's such a quick and easy dinner. Just whisk up one egg per person then add to the oil and quickly scramble before adding the sesame and garlic.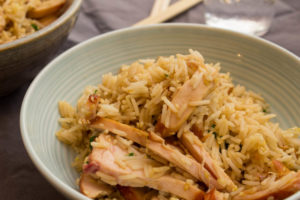 The smoked chicken in this gives it such a brilliant flavour; the smoking means it has a great texture too. If you can't find smoked chicken you could try smoking your own, or use egg instead as I mentioned above. Any leftover barbecued chicken would be a great alternative. This whole meal takes 20 minutes from start to finish. There's a lot of room to add in vegetables; I would have added peas or sweetcorn if I had any. This really is more than the sum of its parts and a versatile, quick and easy recipe I know I'll be coming back to again and again.