Comforting, nourishing and wholesome; there's nothing quite like a bowl of soup. It's my lunch of choice, especially during the week when I want something quick and easy. I like to vary what I have with my soup and more often than not I don't have it with bread, preferring to have a salad or some leftovers on the side. This recipe for roasted superfood salad works particularly well with Baxters new Super Good Chicken Noodle Soup because the turmeric, chillies and carrots in the soup mirror the flavours of the salad. The Baxters Super Good range is made to help you eat well and feel great; full of flavour and health-boosting ingredients.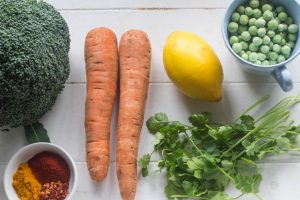 Ingredients
You will need (for one):
2 carrots, cut into batons
1 tbsp olive oil
1 tsp each turmeric and paprika
½ tsp dried chilli
Salt and pepper
½ small broccoli, cut into florets
1 small mug frozen peas
Juice 1 lemon
Small bunch fresh coriander, roughly chopped
1 can Baxters Super Good Soup (I used their Super Good Chicken Noodle Soup)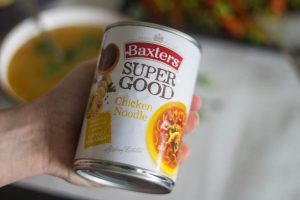 Method
Preheat an oven to 180C.
Mix together the carrots, oil, spices and seasoning and tip onto a baking tray. Roast in the oven for 15 minutes.
Add the broccoli to the carrots and roast for a further 10 minutes. I like to cook the broccoli from raw as it has a lovely toasted flavour but you could steam it quickly before adding it to the carrots if you prefer.
Get a small pan of water on to boil and then add the peas. Boil for 2-3 minutes then drain and put to one side.
Pop the soup into a saucepan or microwave to warm up until just simmering.
Remove the vegetables from the oven and add the peas, lemon juice and coriander.
Serve the vegetable salad alongside the soup and enjoy.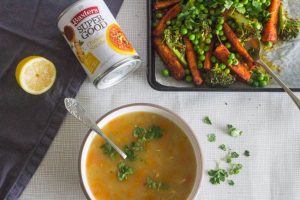 The sweetness from the carrots and peas works so well alongside the earthy turmeric and punchy paprika. The little heat from the dried chillies combined with the fresh coriander and lemon means this roasted superfood salad is so full of flavour. This is exactly what I am after at lunchtime; something filling and healthy to give me plenty of fuel for the afternoon. Top tip: make a double batch of roasted veg as it keeps really well in the fridge meaning you can just grab the salad and soup and off you go!
This is a featured post and I was reimbursed by Baxters for my time and ingredients. All opinions and words are (as always) my own. Thank you for supporting the brands that support me.