Before we went to Italy I was looking forward to it immensely. I had been planning an Italian road trip for months and I couldn't wait to start visiting and eating my way through this beautiful country. Now I've come back I feel like I've left a little part of me there and I am itching to go back. We went to lots of different regions and the way of life is so different in all of them: in Ferrara (Emilia Romagna) it is all about food; in the Amalfi Coast (Campania) dressing well came hand in hand with rushing around; Montepulciano (Tuscany) oozed a relaxed way of life, excellent wine and any excuse to socialise; Venice (and the Veneto) was home to the friendliest, most generous and bustling city I've ever been to.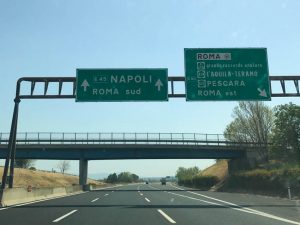 We hired a car which made it really easy to get around and when we did use public transport it was frequent, reliable and cheap. I'm not sure I need to point this out but just in case you had doubts the food was amazing. Everywhere. The below isn't a detailed account of what we did each and every day, this trip was actually our honeymoon, but a summary of where we stayed, my top places to eat and drink and a few top tips. I planned this road trip to take in all the best bits from any country: city, sea, countryside and a bit of history and architecture. The places we went to weren't necessarily the first places you would think of (except Venice) but I wouldn't hesitate to return to any of them.
So, here we are, 2000km of driving later. The ultimate Italian road trip!
First stop – Ferrara
Why?
Home to one of only five moated castles in Italy, the city is in two halves: medieval and renaissance. It is also walled all (most) of the way round.
Take a trip to
San Cristoforo alla Certosa is a beautiful medieval church, peaceful and an impressive place to take in. It's worth hiring some bikes to cycle round the walls of the city, they're really handy for getting around. A huge market takes over much of the city on Mondays; worth going to see all the food!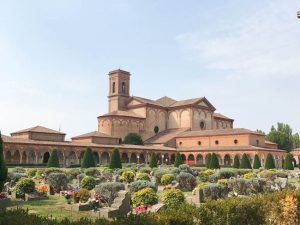 Stay
Alchimia B&B is just outside the city centre with private parking and bikes to borrow (for free)! The garden, complete with hammocks is available for everyone to use and the breakfast is fantastic. The building has been in the owner's family for generations, rooms with huge memory foam beds, and the owners could not have been more welcoming. Outside is covered with vines and local art; in this case boots and shoes all painted green.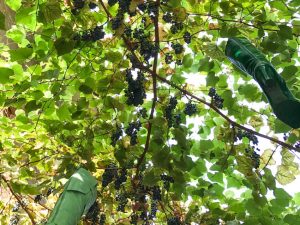 Eat
Cà d 'Frara Trattoria Moderna was brilliant; it cooks up the dishes that Ferrara is best known for with a great wine list. Cappallacci di zucca ferraresi (pumpkin filled pasta with ragu) and pasticcio di maccheroni (mushroom and creamy pasta pie) are the two most famous dishes, and they serve them both on one plate! What more could you want?
Top tip
Go the last weekend of August to coincide with the annual Buskers Festival. Expect food and drink stalls, entertainment on every corner and parades around the city.
Second stop – Furore (The Amalfi Coast)
Why?
It's one of the most beautiful places I have ever seen, no matter where you are looking to or from. Winding roads, deep blue sea (I didn't even know it came in that colour), hustle and bustle and towns that look like they are floating on water.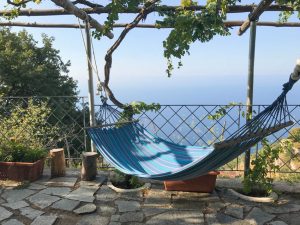 Take a trip to
Ravello. A little more awkward to get to than some of the bigger towns; you need to get to Amalfi and then a bus up to Ravello. It is a wonderful oasis of peace and calm as traffic isn't allowed in the town centre. This was probably my favourite of all the towns we visited and Villa Cimbrone is definitely worth a trip, if not just to see the famous busts on the infinity terrace; it's actually a hotel but you can pay to get into the famous gardens. The views are sensational.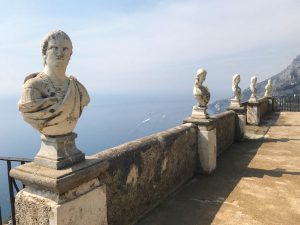 Stay
Hostaria di Bacco is in the small town of Furore. It's about halfway between Amalfi and Positano and there is a bus stop at the top of the car park; hugely convenient! The view from the hotel room looks almost fake; I couldn't believe it. Having the balcony, and access to the terraced gardens, means you can while away the hours in the sun watching the boats go past.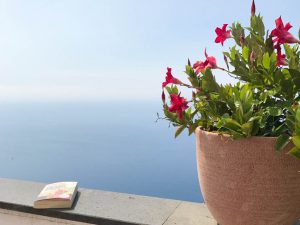 Eat
The little places were definitely the best. The food in the main towns (Amalfi, Positano, Ravello) was good but it's expensive and because it's a tourist hot spot the service is a bit lacking. The small corner shop and bar in Furore were fantastic; cold beers in the fridge for €1 and a great view from the patio outside. A real locals place! The shop makes sandwiches to order and they were delicious; you can choose what you have and I tell you a mortadella, mozzarella, sundried tomato and olive ciabatta in the sunshine is the best.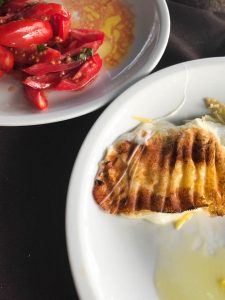 Pretty off the beaten track, near the start of The Walk of The Gods is a place called Crazy Burger in Agerola. Ignore the name the food here was fantastic. The owner said himself, "We don't have a lot on the menu and what we do have is made only with local, seasonal ingredients". A whole ball of mozzarella, griddled and served with Amalfi lemon zest and a fresh tomato salad; so simple and probably one of the best meals we had the whole time!
Top tip
Use the buses, don't try and drive it! Parking is so limited, and expensive, that you are much better off getting a local bus and some hotels offer a private bus service too. Get boats between the towns; Positano to Amalfi takes over an hour on the bus but only 25 minutes by boat.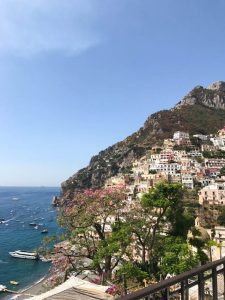 Third stop – Montepulciano
Why?
Winding roads lined with Cyprus trees, hilltop towns and vineyards and olive groves around every corner. The food is rich, the pace of life is slow and people are generous with their time, knowledge and hospitality.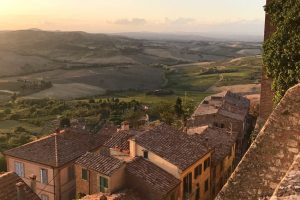 Take a trip to
Bagno Vignoni is a beautiful spa town about 40 minutes' drive from Montepulciano, as with all driving in Tuscany it's really not a chore as the views are stunning. All the shops and restaurants are based around the hot springs in the middle; a fantastic place to stop for lunch. Try Osteria Porcellum for lunch; wonderful aubergine parmigiana and traditional Cantucci con vino santo (almond biscuits served with sweet wine).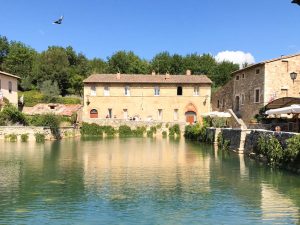 Stay
Relais Ortaglia. Owners Nicola and Francesca couldn't have been better hosts, they made us feel so welcome and the B&B was stunning. The grounds are full of orchards and fruit, which the guests are encouraged to pick and eat. The infinity pool overlooks the vineyards and the views from every part of the house are just beautiful. It's less than 1km from Montepulciano and it was like living an Italian dream for a few days.
We also had a cooking class while we stayed and learned to make pasta which was fantastic.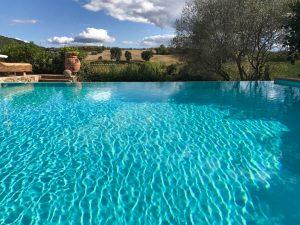 Eat
There are three places that stood out for me, one of which I think is the best restaurant I have eaten in, ever.
La Grotta (aka the best restaurant in the world, in my world anyway). The restaurant is just outside Montepulciano and you walk downstairs into a slightly underground restaurant with billowing linen curtains, incredible service and a food and wine list that sounds like everything you've ever dreamed of. I had pheasant and saffron stuffed ravioli followed by herb crusted rack of lamb (as advised by our waiter, I just couldn't choose) a little break to choose my dessert and then a strawberry clafoutis. Maybe it was the setting, the warm summer evening, the service or the general Tuscan loveliness but whatever it was only happens here; a truly wonderful place.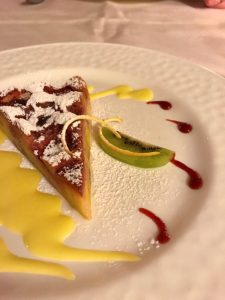 Podere il Casale is, would you believe it, a farm shop. With a restaurant, plenty of wine, goats and a few places to stay; with that view it would be rude not to share it. Everything is organic and we had a fantastic afternoon sampling their cheeses and wines, they have a proper restaurant too!
La Bottega del Nobile have a huge range of Tuscan wines by the glass, and an impressive selection of gins too. The food here was generous, hearty and not overpriced. We shared a plate of cured meats and cheeses, followed by a fantastic Italian sausage ragu with gnocchi. The OH had a delicious beef ragu with the local pasta shape, pici. At the end of the meal they serve local vino santo from a glass jug so long it has to be served like it's a snooker cue!
Top tip
Time it right and head to Pienza for the annual Pecorino cheese rolling competition. It takes over the whole town!
Last stop – Venice
Why?
History, art, over 400 bridges, architecture, Gondolas…need I say more? I wasn't expecting to love Venice as much as I did; the bustling crowds, shouting market vendors, narrow streets, shops, restaurants and bars have something about them that I can't quite put my finger on.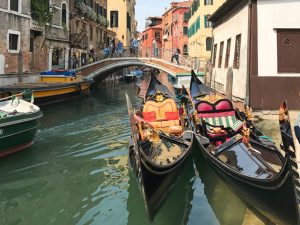 Take a trip to
Piazza San Marco. You can take in some of Venice's most famous sights while queuing to get into St Mark's Basilica (which is free to get into by the way). But be prepared, it will be manic. Go early in the morning to beat most of the queues and escape the masses.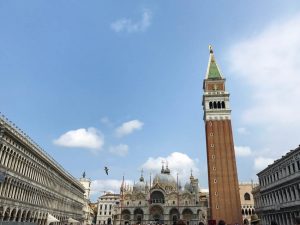 Stay
If I went again I would love to stay in Venice itself. We stayed on the mainland in Mira (as we had our car) and got the bus from straight outside the hotel into Venice in around 25 minutes.
Eat
Everywhere. We wandered around Venice stopping to share a little cichetti (Venetian snacks), freshly made takeaway pasta, an ice cream and anything else we fancied. There are small bars, with three or four tables in each (if you're lucky) which are the best places to get a little bite to eat and a very reasonably priced Aperol Spritz. If you're paying more than €4-5 per glass you're in the wrong places! Take a seat, grab a drink, read the specials on the blackboard (normally small sandwiches with cheese, veg and/or cured meat), order a few bits, finish with an espresso and move on to the next one.
Get a seat at Al Prosecco and try one of their many proseccos by the glass. Their cichetti were fantastic!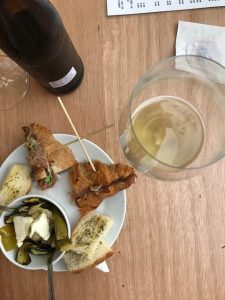 Top tip
See the sights early then while away the day eating in as many places as you can! Spending the day touring the bars and eating all the different cichetti was so much fun. Being in the back streets you see Venetians going about their daily lives; popping in to down an espresso from their favourite barista and grabbing a small snack to go. Everyone makes their own versions of cichetti; no two are the same.
And after all that…
I really like to think that we did a bit of everything while we were on our Italian road trip; the weather was so good that we spent as much time outside as possible. There were busy days, driving days and days for doing nothing. The roads are easy to navigate (I took satnav though!) and paying the tolls is so easy; just make sure you don't go through the Telepass route. I can't wait to start cooking up some of the food we tried while we were there; just need to find some elasticated waist trousers first.