The next pasta recipe up my sleeves is a super quick one; ideal for a midweek meal you need in a hurry but still want it to be tasty too. My Spicy Tomato Fusilli with Garlic Pangrattato takes less than thirty minutes from fridge to plate, is super cheap and great at using up odds and ends you may already have in the fridge and cupboards.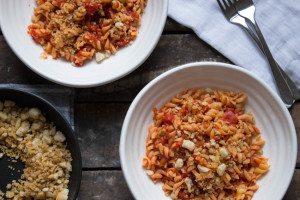 You will need (for two):
175g pasta (I used fusilli)
1 can chopped tomatoes
1 small onion, finely chopped
1 chilli, diced (I used a jalapeño but use whatever you have)
Oil for cooking
Salt and pepper
1 slice stale white bread
2 tbsp olive oil
2 large garlic cloves, crushed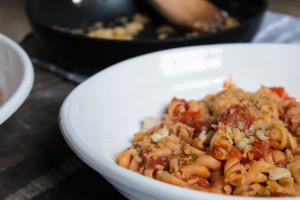 Heat a little oil in a saucepan on a medium heat and add the onion. Fry for 10 minutes, stirring occasionally.
While the onion cooks blend the bread in a food processor until you have breadcrumbs.
Add the tomatoes and chilli to the onion with a little seasoning and simmer for 15 minutes until thickened.
While the tomatoes simmer cook the pasta in a large pan of boiling water. At the same time put a small frying pan on a medium/high heat and add the olive oil and breadcrumbs. Fry, stirring frequently, for five minutes before adding the garlic and continue to stir until the garlic is very lightly brown and the crumbs are toasted.
Drain the pasta when cooked then mix the spicy tomato sauce into the pasta. Serve up and top with the garlic pangratatto.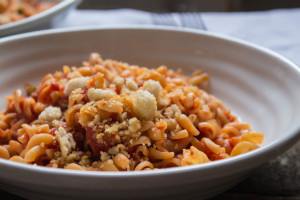 Frying the onion gently is key to giving this dish a little sweetness to complement the slightly acidic tomatoes and the heat from the chilli. I love the crunch and crispness that the pangrattato gives, along with a good hit of garlic. It's a great recipe to use up a bit of old bread, a tin of tomatoes and other bits and bobs to leave you with a nice cleared out fridge. If only it worked out that well every week!