This was a gifted meal.
I hadn't been to Cookham before having Sunday lunch at The Ferry a few weeks ago. In Berkshire and nestled alongside the Thames it's a lovely village for a walk around, a nose in a few of the independent shops and finding somewhere for a drink, good food and a natter. Home to the Stanley Spencer gallery you could easily while away a morning before heading for some lunch. My top tip: get there early. Parking in Cookham is somewhat limited, there is a big car park just outside the village but if it's a sunny day you won't be the only one trying to park! Having said that, we did find a space after doing a couple of loops.
The Ferry Cookham has very recently been decorated along with a menu relaunch and we were invited to try out the new restaurant. With a riverside table in a bustling restaurant we settled down to look at the menu. There were plenty of wines and beers to choose from along with soft drinks; I had a Chilean Merlot (£7.55, 250ml) and the OH a local golden ale (apologies, I have forgotten the name of the brewery completely). There were several things that caught both our eyes on the menu: wagyu burger, pea and mint tart, smoky short rib of beef and battered halloumi.
We started with some bread (£5.25) with oil and vinegar, flavoured butter and caramelised onions. It was a generous portion of bread, warm and lightly toasted too, good for dunking in the oil. The butter was a lovely orange colour I think it had paprika and parsley mixed in but a little more paprika would have really made it sing. I've not had caramelised onions on a bread board before and I really liked it; a nice bit of sweetness to go alongside everything else.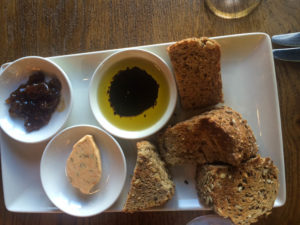 I chose the mozzarella and artichoke aranchini for my starter (£6.95). What a pretty plate of food! I've got to say that these are the best arancini I've had and I could have eaten them several times over. The flavour and texture were just perfect and really cleverly executed so that neither the artichoke nor mozzarella were overpowered with any other flavour. The OH had the mushrooms on toast (£6.95) which had a lovely flavour from the buttery mushrooms, creamy blue cheese sauce and thyme. It was nice that they used large portobello mushrooms rather than chestnut or button, it was a bit different.
For my main I had the roast beef (£15.95). It's worth mentioning that they do roast beef, lamb, chicken and pork (or all four if you're feeling hungry) as well as a veggie roast. You can see from the photo that the Yorkshire pudding was massive (always a good thing in my book), the beef was perfectly cooked and the potatoes were nice and crisp. I had steamed kale, pickled red cabbage, cauliflower cheese and roasted parsnips so there was a good bit of veg on the plate too; pickled cabbage and cauliflower cheese are always a 'yes please' if I'm having a roast dinner and I'm pleased to say they were both exemplary. This was a cracking roast, really generous and full of flavour. If I'm being really, really, picky then a few steamed carrots would have made it perfect.
The OH opted for the southern fried chicken (£15.50). Stuffed with 'nduja sausage and served with sweet potato fries and preserved lemon aioli it was something different for a Sunday. The 'nduja added a good spicy kick, the chicken's coating was crispy and not at all greasy and the citrusy aioli worked well.
After a little pause we ordered pudding. I was very tempted by the apple tarte tatin but was so full I went for something a little smaller: cookie and ice cream (£4.95). I'm not sure who they get the ice cream from but it was really good; nice and thick and creamy. The triple chocolate cookie was good too, crispy on the edges and soft in the middle. It would have been great if the cookie was slightly warm. The OH went for the sticky toffee pudding (£5.95) and it was delicious, so rich, sticky and dark. We had a couple of coffees while staring out of the window over the river.
It was really busy when we went and despite the staff being so busy they were attentive to everyone. I think the fact that it was so busy shows that the locals, and some people from further afield, are clearly supporting the relaunch. I liked the restaurant and the food and I think it would be a great destination for lunch if you parked up in nearby Maidenhead and walked to Cookham.
This lunch was paid for by The Ferry, Cookham, thank you to them. All opinions expressed and words are my own.