I do like a tin of food. There's something very humble about tinned fruit and vegetables particularly; and I am not one to overlook anything that comes in a can. My favourite canned good of all is the artichoke. That's how this recipe for Chicken, Olive and Artichoke Stew with Risotto came about. Artichokes are very expensive, covered in oil (normally sunflower rather than nice olive oil) and quite small if you buy them chilled or in a jar; but in a can they can be half the price, bigger and once drained you get more for your money. So I wanted to make something comforting, filling and delicious and make the most of the wonderful artichoke.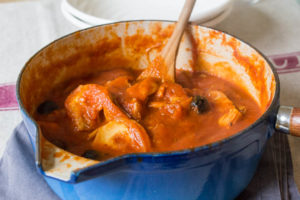 Ingredients
You will need (for four, or two, see below*):
6 small chicken thighs, diced
1 large onion, sliced
3 garlic cloves, crushed
1 heaped tsp dried rosemary
1 bay leaf
700ml passata
1 tin artichokes, drained and halved
Large handful stoned black olives (if you can get some that come with sundried tomatoes then all the better as you can add those too)
Oil for cooking
Salt and pepper
Pinch sugar
Method
Heat a little oil in a saucepan on a medium-high heat. Add the chicken and fry quickly until it's turning brown. Remove the chicken and put to one side.
Add a little more oil to the pan, if needed, then add the onion. Fry for around 10 minutes then add the garlic, rosemary and bay and fry for another few minutes.
Tip the chicken back into the pan then pour in the passata, add the artichokes and olives then simmer everything for around 20 minutes. You want the sauce to reduce and for the chicken to cook through.
Taste the tomato sauce and add salt, pepper and sugar as needed. It depends how salty your olives are and whether the tomatoes are a bit on the acidic side.
* Serve. This is where I love this dish even more.
This recipe makes four generous portions so on the day I cooked it up I enjoyed two servings over a simple risotto bianco; with loads of Parmesan of course. Then I refrigerated the other half to use the following day: stirred through some cooked pasta, into a baking dish and covered with mozzarella for a pasta bake.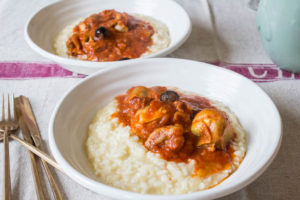 Stirring the tomato sauce through the creamy, cheesey risotto makes it just divine. As there's lots of ingredients in here it means every mouthful is different; a salty olive, a chunk of artichoke, some tender chicken, even just a little of the herby tomato sauce. Brilliant piled on top of the risotto and seriously tasty the next day as a pasta bake I can see plenty of variations of this being made throughout the year. You could add in a diced courgette or two, a tin of butterbeans or a little paprika, cumin and oregano for something a little spicier.