When I was young I baked with my Granny at any opportunity. She's got mad cooking skills and will beat anything together that looks like it's not going to work, portion up a raw chicken to freeze in the blink of an eye and somehow manages to produce amazing food from seemingly nothing. Safe to say, she knows what she's doing. However, we made these biscuits once together and, thanks to a timely phone call from my Mum, somehow both forgot to add any sugar to the dough. We made some very successful crackers but it wasn't quite what we were aiming for. Almost 20 years later I thought it was probably time to give Granny's Oat Biscuits another try.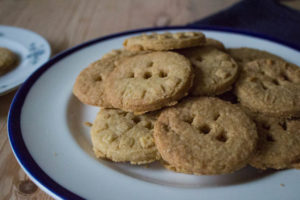 Ingredients
You will need (for 16-20 biscuits):
125g margarine
80g sugar
80g oats
175g plain flour
Pinch salt
Method
Start by putting your oats into a food blender and blending them to a coarse powder; a few big bits are fine.
Beat the margarine and sugar together then mix in the flour, oats and salt. Mix everything together with all the strength you have in your upper arms. It will look like a bowl of lumpy powder but keep on mixing and you'll get a dough.
Preheat an oven to 150C and line two trays with baking paper.
Roll the dough out until it's 3-5mm thick then cut out with a biscuit cutter. Re-roll and cut until you run out of dough.
Pop all the biscuits onto the prepared trays and then bake in the oven for 20 minutes.
Remove from the oven then take off the trays and leave to cool on a cooling rack before storing in an airtight container.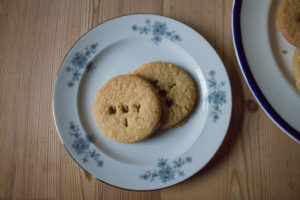 Success! All the ingredients were added in this time; Granny was very relieved to hear this news. I planned on taking some round for her to try but we accidentally ate them all. There's something that the blended oats give to the biscuits that make them extra tasty; I'm not sure if it's the nutty flavour or extra crunchy texture. I think these biscuits are great on their own; a celebration of simplicity and something that can be made and baked in under 30 minutes. However, if you wanted to go a bit fancy-pants you could add a little orange zest to the dough or maybe dip the biscuits in chocolate once they've cooled down. Delicious additions and something I think I'll be trying with my next batch. Which hopefully some of, will reach my Grandparents.