I wrote on my blog a little while back that humble doesn't have to be hum drum and it got me thinking. Can I make what might be considered a luxury into a cheap, and hopefully humble, meal. Steak, for me at least, is considered an expensive luxury; it's not something I buy on a regular basis. It is however something I enjoy and it was about time I tried a cheaper cut to see if it could cut the mustard.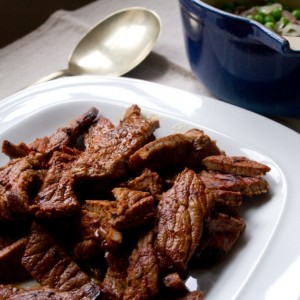 Enter my knowledgeable butcher. I had heard that hanger (or onglet) steak was a cheap alternative that is normally used for slow cooking. Unfortunately there was no hanger available as it was all frozen, but not to worry, as I was assured that a few slices of topside would be a good substitute. My butcher took off a few thick steaks from the topside and butterflied them for me, I couldn't wait to give it a try. The topside came in at £12.95 per kg whereas sirloin would have been £24.50 per kg.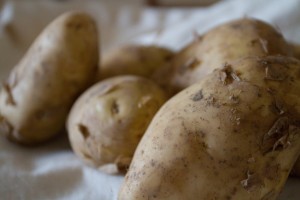 Ingredients
350-400g butterflied topside

1 tbsp paprika

1 tsp dried thyme

Salt and pepper

2 tbsp extra virgin olive oil
1 head of garlic

Olive Oil

Salt and pepper

6 medium potatoes

Extra virgin olive oil

Milk
150g frozen peas

1 small red onion

1 clove garlic

Big knob of butter

Salt and pepper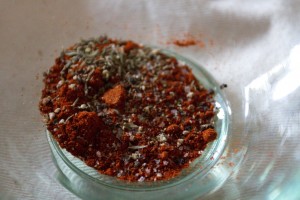 Method
Start by slicing the top side into strips and putting into a bowl with the paprika, thyme, a little salt and pepper and olive oil. Give it all a mix and leave to one side to marinate.
Preheat an oven to 180C. Slice the top of the garlic head off about 1cm down from the top to expose the cloves inside. Remove as much papery skin as possible but leave enough to hold it together. Put the head onto some foil and drizzle over some olive oil and salt and pepper. Wrap the garlic up and place in the oven for 30 minutes to roast. Remove when done and leave to cool.
While the garlic is roasting make the mashed potato by peeling and dicing the potatoes and bringing them to the boil in salted water. Boil until they are soft when tested with a knife then drain and put to one side.
For the peas, slice the onion thinly then add some butter to a pan with the onion over a medium heat. Leave to soften for a few minutes and then add the garlic. Keep this on a medium heat stirring occasionally to prevent the garlic burning.
Get a frying pan on a high heat with a little olive oil. While this heats up remove the roasted garlic from the skin and add to the potatoes with a splash of milk and a big glug of extra virgin olive oil. Mash to the consistency you like adding salt, pepper or olive oil to your taste.
Put the peas into some salted boiling water and cook for a few minutes, drain and then add to the onions. Remove from the heat and add a little extra butter so that it melts in the pan.
Put the steak into the hot pan for two minutes (or longer if your steak is thicker) until lovely and brown then remove and leave to rest.
Serve up the steak with all its juices, the garlicky mash and the peas and onions.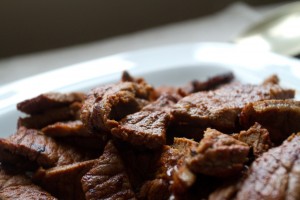 I can't be exact but by my reckoning this meal cost less than £7 for the both of us. Not something that we would eat every week night but something special and inexpensive to cheer up a dreary Tuesday evening. The steak was really good, well worth a try; some bits were more tender than others but overall I think the few chewy bits are well worth the cost saving. The mash was velvety and subtly garlicky and the sweet peas smothered in butter were lovely. I think the cost of the meal makes it a little humble but the end result is far from hum drum.