Marshmallows have always scared me a little; I thought they were terribly complicated to make and completely not worth the time. As it turns out they take nowhere near as much time or effort as I anticipated and they are so much better than any marshmallow I have had before. So to end my series of festive posts this makes a great winter evening drink. Add a little rum for the adults and a little extra milk for the children, a marshmallow in the mug and even better if you have some forks and an open fire to toast the rest.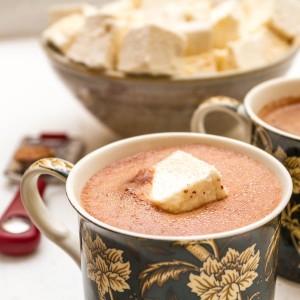 Ingredients
You will need (for two hot chocolates):
60g 70% dark chocolate

50ml rum, whisky or Cointreau

225ml whole milk
You will need (for plenty of nutmeg marshmallows):
1 tbsp icing sugar

1 tbsp cornflour

Vegetable oil

8 sheets of gelatine

2 egg whites

450g unrefined caster sugar

Nutmeg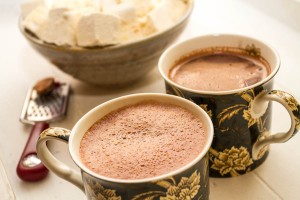 Method
Sift the icing sugar and cornflour together. Rub a tin lightly with the vegetable oil then dust with the cornflour sugar mix.
Put the caster sugar in a pan with 200ml water and bring to the boil. Boil until it reaches 127C on a sugar thermometer.
While you wait for the sugar to boil put the gelatine sheets into 150ml water.
When the sugar syrup is ready add the gelatine with the soaking water and mix well. Grate around 1/2 tsp nutmeg into the syrup.
Whisk the egg whites in an electric mixer until stiff then continue to whisk them while you pour in the hot sugar syrup. Keep whisking until the marshmallow is stiff.
Spoon this into the prepared tin then leave to set before dusting a worktop with more icing sugar and cornflour and cutting the marshmallow into pieces.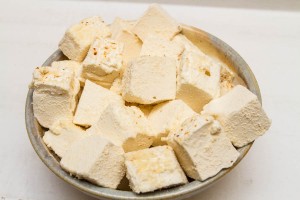 For the hot chocolate add all the ingredients to a saucepan and heat gently whisking continuously until hot and the chocolate has melted.
Serve the hot chocolate up with a marshmallow on top.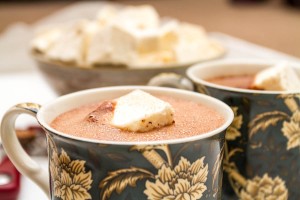 My marshmallows came out so well I couldn't be more pleased; lovely and squidgy, dusty on the outside and with warming nutmeg throughout. It was nice to know exactly what had gone in my marshmallows rather than the unknown ingredients you could get if you buy them. The hot chocolate was punchy, as expected with the 70% chocolate, and lovely and thick. The best bit of course was waiting for the marshmallow to go gooey and then spooning it out to eat it. If you've got a sugar thermometer and an electric mixer do give marshmallows a try; for something so sweet and cute they are far from terrifying to make.