This year's Christmas food and gift guide is full of different products to try! A little collection of tasty treats and foodie gifts to give you a few ideas. If I find anything else I think is worth popping on I'll be adding to this list over the next few weeks. I've got wreaths, crisps, chocolates, prepared veg, dessert tea and a hamper to get you started.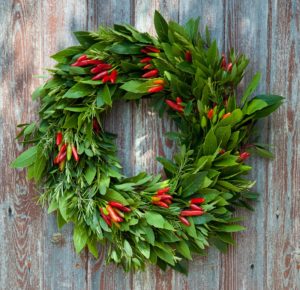 Herb wreath from Rocket Gardens
I love this, I think it's such a lovely idea and something different to hang on your front door. Made from bay leaves, rosemary and chillies and made in Devon you can actually use the herbs over the coming weeks in all sorts of recipes. RRP £29.99 deliveries available from w/c 12th December.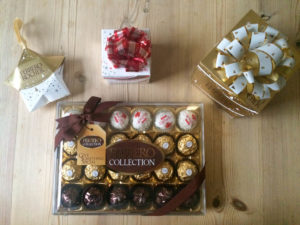 Ferrero Rocher
I forgot how good this classic gold hazelnut chocolate was until I tried them again recently. And yes I still try to take the chocolate off the outside of each one! Also available are Raffaelo; an almond on the inside surrounded with milky ganache and coated with coconut and the Rondnoir which is a darker chocolate version of a classic Ferrero Rocher. A few of these are always welcome on my coffee table! RRP £5 for the selection, £1.50 for the star, £2.99 for the gold mini cube, £2.99 for the Raffaello mini cube.
Ahmad Tea
Amongst all the present wrapping and cake at Christmas it's nice to take some time out for a cuppa. Ahmad Tea have released six dessert inspired flavours: Pear & Cinnamon Strudel, Strawberry & Basil Coulis, Strawberry Velvet Cake, Mango & Lychee Soufflé, Moroccan Orange Slice and Citrus Mint Sorbet. These come in silk pyramid tea bags so they're always a little treat to use. The strawberry and basil is currently my favourite flavour and the Moroccan Orange is delicious with a warm mince pie. RRP £4 each.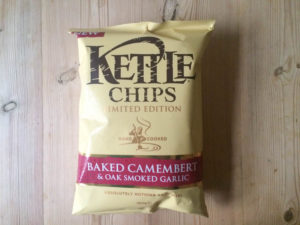 Camembert and Oak Smoked Garlic Kettle Chips
This combination of festive flavours is something different to snack on. The garlic flavour in these, because it's smoked, is nice and mellow and the Camembert is nice and creamy. I have to admit I scoffed these in front of the television and they were all gone before I realised it! I bet they'd be lovely dunked in a tomato salsa too. RRP £1.85.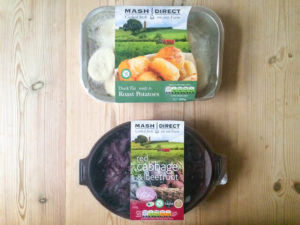 Mash Direct Vegetables
I tried two of Mash Direct's pre-prepared vegetables: their goose fat roast potatoes and red cabbage and beetroot. The potatoes cooked up really well and there was no oily residue in the tray or on the potatoes and the (award winning) red cabbage and beetroot had a lovely pickled flavour. I cooked these to have with a roast dinner and having them pre-prepared saved a lot of space in my oven and on the hob which is always a good thing. I think these are nice little corners you could cut to save prep time for festive cooking. RRP £1.99 for the potatoes, £1.60 for the cabbage and beetroot.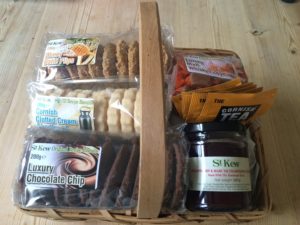 Suttons Seeds Goodwill Basket
I love a hamper! Getting a hamper at Christmas is such a nice present as they're full of things you might not normally buy for yourself or little treats to enjoy over the festive period. This Goodwill Hamper from Suttons Seeds is stuffed full of biscuits, tea, jam and fudge. A lovely selection of things to keep in the cupboards from St Kew in Cornwall: Cornish Clotted Cream Shortbread, Luxury Chocolate Chip Biscuits, Honey Oat Flips, Strawberry and Champagne Conserve, Cornish Tea (from the Cornish Tea Co) and Malt Whisky Fudge. Both the biscuits I've tried so far (chocolate chip and shortbread) are just what you need after a morning's present wrapping! I'm looking forward to trying the rest very soon. RRP £22.99.
Thanks to Ferrero Rocher, Ahmad Tea, Mash Direct, Kettle Chips and Suttons Seeds for the samples. All opinions and words expressed are my own. Prices correct as of 2.12.16.