November has certainly let us know it's arrived! The weather has definitely got colder and the trees are all almost bear. That means that the cooking has changed in my kitchen. It's all about comfort food, being clever with leftovers and slow cooking at the weekends. I have been trying out some new products this month too so here's what's new in the kitchen November.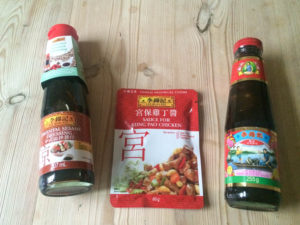 Lee Kum Kee sent me a few of their sauces to try. The Kung Pao chicken (in the pouch) was really good for a chicken stir fry with bean sprouts and cashew nuts. You use a little of the sauce to marinate the chicken before you cook it so it's good for a quick weeknight dinner. I really like the packaging on the bottles of oyster sauce and sesame dressing, they've cheered my cupboard up! The sesame dressing is particularly good over steamed carrots.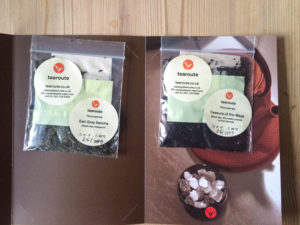 These teas from Tea Route came in a great pack that fits through the letter box and the smell when you opened it was incredible. I had two to try: 'earl grey sencha' and 'treasure of the Maya'. The earl grey has been my go to for my morning cup of tea; a lovely mix of green tea and bergamot with pretty blue cornflowers in the blend. The treasure tea is a mix of black tea with chocolate and cocoa pieces; I wasn't sure what it would be like but the tannins in the tea and the chocolate work really well together and I've been enjoying a cup of this in the afternoons.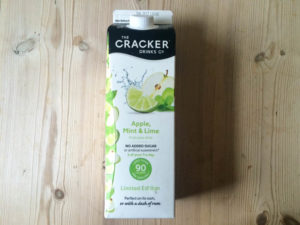 This apple, mint and lime drink from The Cracker Drinks Co is a really nice blend of flavours. The mint comes through nice and strong but not too overpowering and the lime adds a good bit of acidity. They use stevia as a sweetener so it's lower in calories than other juices. It's lovely with a shot of rum added to it!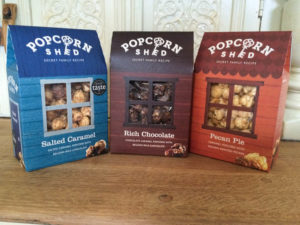 There are quite a few people making popcorn these days and I find it hard to know which one to try next. Don't panic though, I've found the popcorn of all popcorns. The Popcorn Shed coat their popcorn in a sugary, crisp glaze (some of the other popcorns I've tried are covered with powdered flavours) and they are delicious. Pecan pie (with bits of pecan), rich chocolate (drizzled in chocolate) and salted caramel (self explanatory). One can pop corn until the cows come home but with these the glaze really makes them. I'd say it's the best popcorn I've tried!
A good bit of variety this month I think you'll agree. Keep an eye out for the next 'new in the kitchen' post for December as it'll be my Christmas food and drink guide!
Thank you to Lee Kum Kee, Tea Route, Cracker Drinks and The Popcorn Shed for the samples. All opinions expressed and words are my own.