This was a gifted meal.
After arriving in Southend a few weeks ago we ventured out, into some unruly weather, to take a walk along the seafront to Westcliff-on-Sea to get some lunch. After passing the pier, Southend town and some of the gardens opposite the water we arrived at a collection of cafés and shops set back from the sea each with its own brightly coloured awning, tempting smell and delicious sounding menu. I love a sandwich and they don't come much better than the open or closed ones at Coastal Bite.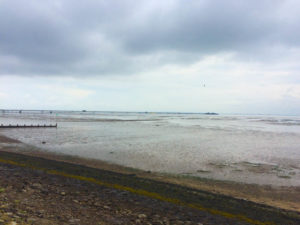 It was raining a bit by the time we reached the beach café so we were very pleased to get there and find it was like a perfect seaside beach hut. With all the lights, bright colours, cushions and blankets you could easily forget it was a typical British summer outside. We actually sat under the awning outside, but away from the rain, which was really nice.
All we had to do now was to choose what to have for lunch. There were lots of tempting dishes on the menu, all with a slight Greek twist which I thought was really interesting. Sharing boards, light starters, sandwiches, burgers, specials and lots of local fish I finally settled on their tuna 'sandwich'.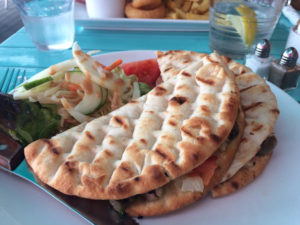 You can have it open (bread at the bottom, filling on top) or closed (two slices of bread). I went closed and I'm glad I did as the bread was amazing. Imagine a tortilla, pitta and focaccia in one and you're almost there. Served warm and filled with big chunks of fresh griddled tuna, capers, tomatoes and onions. A really big salad on the side, which included some kohlrabi, it was one of the best sandwiches ever. It was really fresh and zingy and the filling was really generous too.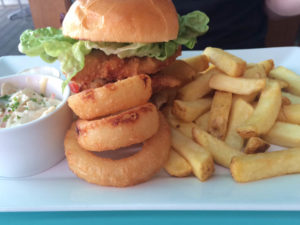 The OH had the Chicken Burger which was jam packed with tomatoes, lettuce and mayo and the bun was really squishy so you could squeeze it all together nicely. The coleslaw was good and chunky and the chips and onion rings just what you wanted them to be like.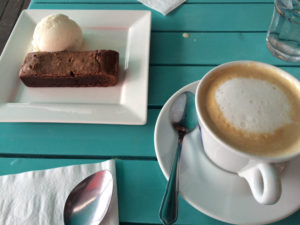 We were really full after our generous lunches but the pudding menu had been winking at me from the opposite wall and I couldn't say no to a chocolate brownie. It was warm, gooey, thick and the perfect size to share with a nice cup of coffee. The other thing I really liked about Coastal Bite was the sound of their live music evenings. I can imagine it's a great location for getting together with everyone for some good food, music and a chin wag.
I would love a sunny day to spend on the beach just over the road from all the cafés in Westcliff-on-Sea, popping over to grab a Rossi ice cream and then sitting down for a delicious lunch. Here's hoping the sun shines for my next trip!
This meal was paid for by Coastal Bite. All opinions expressed and words are my own.