I wanted to make something with meat for my next frugal recipe but I didn't want to compromise on the quality of the chicken I decided to use. I bought two free range chicken breasts from my local farmers' market as they are much more reasonable than buying them anywhere else. In order for this recipe for four to cost less than £6 the chicken needed to be bulked out with plenty of other bits. Enter the wrap; it looks like it's not that filling but after just two of them I am stuffed! This recipe is fresh, vibrant and full of flavour and makes a light, quick and easy meal.
Ingredients
You will need (for four):
| | |
| --- | --- |
| 2 free range chicken breasts | |
| | |
| 150g organic natural yoghurt | |
| | |
| | |
| | |
| Small handful fresh coriander | |
| | |
| | |
| | |
| | |
| | |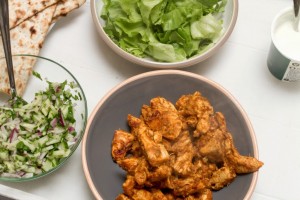 Method
Start by slicing the chicken breasts into thin, inch sized pieces. Put these into a bowl with the tikka paste and 1 tbsp of yoghurt. Mix together and then cover and leave in the fridge to marinate for at least 30 minutes.
While the chicken marinates prepare the rest of the meal.
Wash the lettuce and drain well before shredding it.
To make the salsa finely chop the cucumber and the onion. Put half of the onion and all of the cucumber into a bowl. Tear in the coriander and then mix it all together with some salt and pepper. Put this to one side.
When you are ready to cook the chicken get a large frying pan on a medium heat. Add a little oil and the other half of the chopped onion. Fry the onion for around five minutes to get a little colour then add the chicken and all the marinade.
Continue to fry it all together for around ten minutes or until the chicken is cooked and some of the edges of the chicken have started to catch. Leaving the chicken to catch really adds to the flavour.
Warm the wraps before serving with the chicken, salsa, lettuce and yoghurt.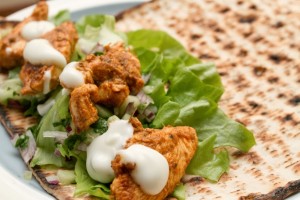 I

f you get the chicken marinating in the morning before you go to work this is a really quick and easy recipe to throw together in the evening. The warm wraps, spicy chicken, cooling yoghurt and crunchy salsa and lettuce work so well together. It's a great way to make some free range chicken go further as the wraps and salad really bulk it out. This is also a fun dinner to eat as it encourages everyone to dive in and get involved.
P.S. don't forget to listen to BBC Radio Berkshire this Saturday morning (around 8.20am) to hear me talking about this recipe!