This was a gifted meal.
I have already mentioned that Leigh-on-Sea is a fantastic town with a seemingly never ending road of independent shops, bars and eateries. We'd already spent hours wandering around; first down to the old town with fresh fish for sale in charming sheds and stalls then back to the top of the town for a nose round the shops. We are notorious for rushing round places and seeing everything within the first hour then wondering what to do next. Not in Leigh-on-Sea, we were entertained for hours. And then it was time for lunch in the beautifully charming Stop The World Cafe.
There were cakes and tea as far as the eye could see, you can see the cake display in the picture below. The menu was a really good read; lots to choose from without being overwhelming and inspiration and flavours from all over the place. I'm never one to say no to an Eggs Benedict so I had to go for that. The OH fancied the Bang Bang Chicken Wrap.
You can see without tasting that the Eggs Benedict was going to be a good one. Huge, well toasted muffins and lots of thinly sliced ham, neatly poached eggs and a decent dollop of hollandaise. The chicken wrap was also very generous with its slightly spicy, peanut-y filling. Both excellent choices if I do say so myself.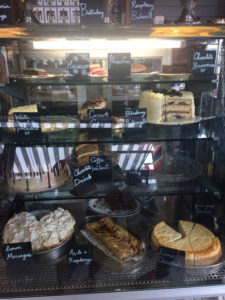 I was very excited to choose a cake from the menu, I didn't know what to do with myself as they all sounded so good. I decided to try their version of the classic Millionaire's Shortbread and the OH ordered their Battenberg. Just look at the pattern on that Battenberg! It tasted as good as it looked too. The Millionaire's was very good, really rich and indulgent and I liked that the chocolate on the top was almost a ganache rather than solid chocolate; it makes for much easier eating!
The décor, the atmosphere, the menu and the staff were all great. You could tell that before even sitting down as it was so busy inside and out. I'm sure Leigh-on-Sea is full of little gems like this but for somewhere to sit down after a busy day and watch the world go by I don't think you could go wrong getting a table here.
This meal was paid for by Stop The World. Thank you to them. All opinions expressed and words are my own.