You know when you go out blackberry picking you end up eating pretty much all of them and have nothing to show for it when you get home? As much as it is very hard to resist keeping any of the berries for later I thought it would be well worth the effort for a sort of hidden gem baked blackberry cheesecake. Beneath the pillowy layers of soft cheese you can find little bits of sweet, purple fruit. I didn't have to save too many either as you only need a handful for this recipe. They do say that picking blackberries in October isn't a good idea as the devil is meant to have peed on them. If you feel like living on the edge then by all means take the risk; if not, a quick trip to the shops should sort you out.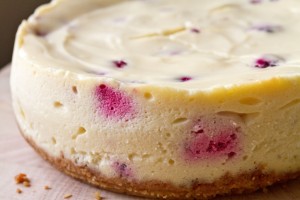 Ingredients
You will need:
180g digestive biscuits

75g butter

600g cream cheese

220g caster sugar

150g sour cream

3 eggs

3 tbsp. plain flour

Large handful blackberries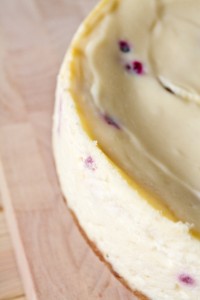 Method
Line the base of a 20cm spring form cake tin. Spring form is your friend for this.
Preheat an oven to 130C.
Crush the digestive biscuits in a bowl; I like to use the end of my rolling pin as it's immensely satisfying. Melt the butter and mix this into the biscuits.
When the biscuits and butter are well combined press the mixture into the bottom of the cake tin and then chill in the fridge.
Whisk together the cream cheese and sugar then mix in the sour cream.
Add the eggs one at a time then add the flour.
Mix the blackberries into the cheese mixture then pour this onto the biscuit base. Smooth over the top of the cake.
Place into the oven and bake for 50 minutes. Turn the oven off and then leave the cake in the oven until the oven is cool.
Chill the cake overnight before removing it from the tin. It should pop right out but you can always run a knife around the edge to make sure.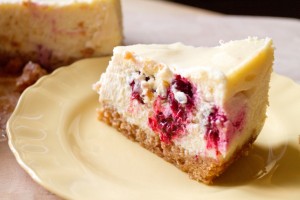 I am really rather pleased with how this baked blackberry cheesecake turned out. I donated a slice or two to some grateful family members who all agreed there was no point in ever buying a ready made cheesecake ever again. The texture is worlds away from any that I've had before and the mixture of creamy, tangy cake and juicy, sweet blackberries is wonderful. There was a fair amount of cheesecake for only two people so we enjoyed it over several days; if anything it got tastier. If you do decide to plunder the hedges for this and the devil has been weeing everywhere I think it's worth the risk.