Considering how much I like cherries I don't get the chance to eat very many of them. I have never had much success with a supermarket cherry preferring to take my chances at the farmers' market where I might be lucky to nab a punnet if I am early enough. The cherries used for this spontaneous dessert were earned by my own fair hand. I was meandering through the market, deliberating how many doughnuts were too many for breakfast, when I was called to help one of the stall holders who couldn't fill enough punnets to keep up with demand. My reward for much scooping was a big punnet of cherries all to myself.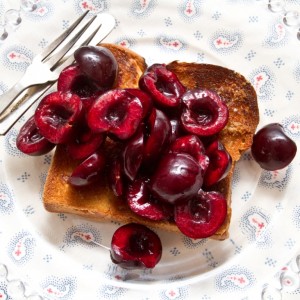 Ingredients
You will need (for two):
300g cherries, de-stoned

1 tbsp caster sugar

Juice 1 lime

2 slices brioche

Butter

Demerara sugar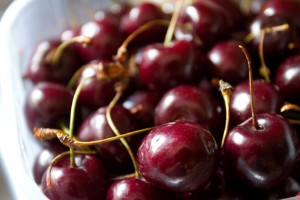 Method
I quite like de-stoning cherries. I find it a therapeutic thing to do and once you get into the swing of things it takes no time at all. I have to admit that my fingers were stained for days afterwards which is not something I've ever encountered with cherries before.
Put the de-stoned cherries into a bowl with the caster sugar and lime juice and then leave to macerate overnight.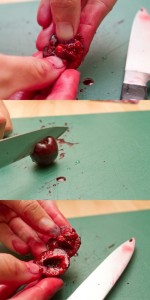 Remove the cherries from the fridge an hour or so before you want to eat them so that they are at room temperature.
Lightly toast the brioche and then spread generously with butter. Sprinkle over a little demerara sugar and then put under a grill so that the sugar lightly caramelises. Remove from the grill and top with the cherries.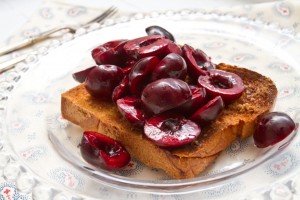 For an impromptu dessert I was pretty pleased with this. The cherries create their own sweet and sour juice which soaks into the sweet bread. It's crunchy at the edges and gooey in the middle. The lime freshens everything up and the cherries were a lovely shade of deep crimson which looked great on top of the sugar topped bread. Perhaps it was because these were free cherries, maybe it was because I had to work for them but there was something a bit more special about this sweet treat than normal.