Spring greens offer so much in their name. They suggest that either spring is here or is just around the corner, they have disguised their cabbage relations with their seasonal pseudonym. I happen to think that spring greens also deliver a lot. They look shrivelled and unwelcoming with their leaves closed to the outside world but once you start to snap them off and slice them up they are wonderfully versatile. As a relation to the cabbage, spring greens lend themselves particularly well to a pairing with bacon. Spring greens and bacon are a delectable combination but don't make for much of a meal on their own. However, when mixed into some mashed potato and smothered in a rich cheese and chive sauce, what a meal it makes.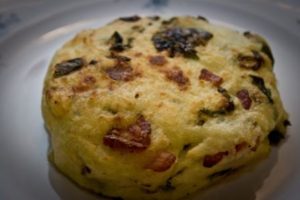 | | |
| --- | --- |
| | |
| 600g potatoes (Maris Piper are ideal) | |
| Milk and butter (for the mash) | |
| 6 rashers smoked, streaky bacon | |
| 4-5 big leaves savoy cabbage (or Spring greens) | |
| | |
| | |
| | |
| | |
| | |
| | |
| 75g strong cheddar cheese | |
| Small handful fresh chopped chives | |
| | |
| | |
| | |
 
First and foremost make some mashed potato. Maris Pipers I found to be particularly good; they are fluffy enough to make mash like a cloud and yet waxy enough to hold the greens and bacon in. Mash your potatoes as you see fit; add milk, butter, cream and anything you fancy but don't forget the salt and pepper. While the potatoes are boiling away, slice some bacon and fry in a pan. Snap the leaves of the spring greens off and shred it finely. Add to the bacon and carry on frying until lovely and golden. For two people I used four rashers of bacon and five large spring green leaves.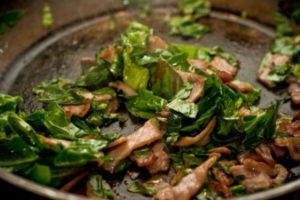 Mix the bacon and spring greens into the mash and form into cake shapes. I made four largish cakes. If you are brave, fry them until brown on both sides; they have a tendency to break up and fall apart if you aren't patient with them. Patience is not one of my virtues and so I put a little knob of butter on top of the cakes and put them under the grill.
While the cakes are browning, make the cheddar and chive sauce. Melt a little butter in a pan, stir in some flour and keep cooking for a minute or so. Whisk in milk a little at a time making sure there are no lumps. Making a roux like this means it's difficult to give amounts. I used roughly a dessert spoon of butter, the same of flour and enough milk to make the sauce the consistency I wanted it. I always add less milk and add more if it's too thick. When the sauce is glossy, remove from the heat and add a handful of grated cheddar and a healthy amount of chopped chives.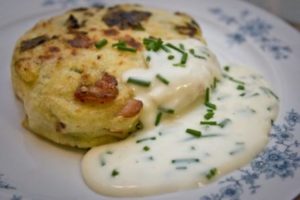 I consider this to be a humble meal but one that gives you a bit of everything. It has warmth, crispy bits on the top, comfort from the potato, salty bacon, your mouth is coated with silky cheese sauce and the chives add a brilliant freshness. This might not be magnificent in appearance but it is marvellous in flavour; just like spring greens themselves.