Cooked cabbage and a wet flannel have an unfortunate amount of textures in common. Particularly if, like me, you were put off cabbage at school where it was boiled to what can only be described as wallpaper paste. Things have moved on since then and I wanted to give the cabbage a chance. I've baked it, boiled it, steamed it and fried it. Apart from frying, none of these yielded any spectacular, life changing results. Nevertheless I wasn't about to give up on them; they are pretty much the only thing in season right now so I have no choice. If I have learnt anything about the cabbage it is that determination is key.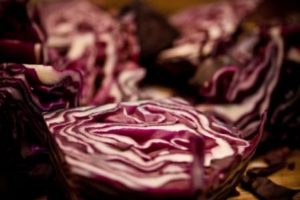 The last thing I wanted was to end up with a miserable, mauve bowl of failure. I wanted to keep the crunch and the texture of the cabbage as I think it is one (if the only one) of its virtues. You could of course use any cabbage for this recipe but the purple cabbage is rather lovely looking.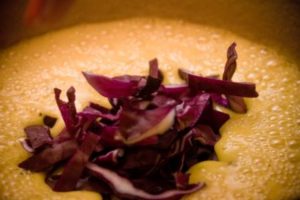 You will need (for two bowls):
1 onion, sliced
1 medium potato, peeled anad diced
1 carrot, peeled and sliced
1 stick celery, sliced
Oil for frying
1 tsp dried rosemary
500ml vegetable stock
1/2 red cabbage, shredded
2 handfuls rocket
Salt and pepper
Start by making the soup base. Fry the onion, potato, carrot and celery for a few minutes in a little oil then add the rosemary and stock.  
Once cooked and the vegetables are soft blend into a nice smooth consistency and then check the seasoning.
While all this is going on, shred the cabbage. I remove the outer leaves because they can be a bit wilted at the edges and you don't want wilt when you're expecting crunch.
When the soup base is blended, put it back on a slow simmer and add the shredded cabbage. Put the lid on. Wouldn't it be lovely if the cabbage retained its colour and didn't leach it into the soup? I'm sure it would help if you blanched it first, put it into ice water and then added it. Leave for five to ten minutes until the cabbage is just cooked.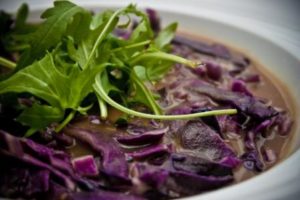 It was odd that the 'dull' colour in the cabbage moved into the soup rendering the cabbage a much more intense purple than before. Some parts of it I swear were almost blue. This was a soup-erb success. The soup had a velvety texture and earthy flavour and the cabbage gave it a glorious crunch. I put a little rocket on to give it a bit of freshness and zing.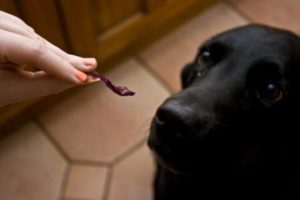 It turns out that cabbage and even cabbage soup can be delicious. I think a bit of bacon would cheer it up no end. If however you remain unconvinced
and end up with an unwanted cabbage, there's bound to be someone else (probably with four legs) who'll have it.