I have seen a few of the Food Bloggers Unplugged posts and I think it's such a good idea. We read each others posts all the time but how much do we actually know about the people writing, taking photos and talking to us. The lovely Urvashi from her Botanical Baker blog tagged me for this one!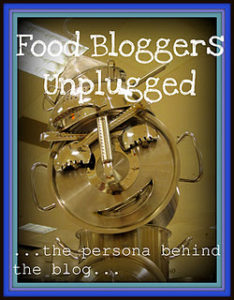 What or who inspired you to start your blog?
I was encouraged to start my blog as a kind gesture to get me to shut up. I wouldn't stop talking about food and instead of bombarding my boyfriend, he suggested I start blogging.
Who is your foodie inspiration?
Not one person in particular but anybody who supports and promotes British, seasonal food; Hugh Fearnley-Whittingstall is a good example. Also, my Grandmother because she has a knack of knocking up an incredible meal out of what seems like nothing.
Your greasiest most batter splattered cook book is?
I am a little protective of my cook books! I have two favourites; one I was bought when I was about 8 years old which has a fail safe chocolate cake recipe in and the other is a set of handwritten recipes from my Grandmother. Both these books have been used so many times and have all sorts of butter, sugar, oil and spices encrusting them but I think it adds to their character.
The best thing you have ever eaten in another country, where was it and what was it?
Chocolate fondant in a backstreet café in Paris. It was like stepping back in time; regal wallpaper, silver cutlery, chandeliers and doilies galore. I will never be able to find it again but it was the absolute best cake I have ever had. It was meant to be a snack but it was so rich, chocolatey, gooey and moreish that we barely had room for dinner.
Another Food Blogger's table you would like to eat at?
I would like to eat at Urvashi's; especially considering what she said she would make on her Food Bloggers Unplugged post! Trio of rose flavoured desserts? Yes please.
What one kitchen gadget would you like Santa to bring you? (money no object)
Kitchen Aid. I don't have room for one at the moment! 
Who taught you how to cook?
A little bit of everyone. My mum, dad, grandmother and I taught myself quite a lot by trying new things and experimenting.
I'm coming to you for dinner, what is your signature dish?
It would depend on what is in season. Right now it would be Jerusalem artichoke soup with bacon, venison wellington and apple/pear tarte tatin.
What is your guilty food pleasure?
Salt and chocolate. I was on this salt malarky when I was 12; always eating ready salted crisps in between nibbles of chocolate.
Reveal something about yourself that others would be surprised to learn?
I have a degree in Nutrition and Food Science. It was three years of Heston meets Jimmy's Food Factory meets The Food Hospital. I loved it.
Tag five other Food Bloggers to answer these questions:
1. Toni from Boulder Locavore
2. Ruth from Bread, Milk and Blackberries
3. Matthew from Salty Plums
4. Jenny from Rhubarb & Ginger
5. Emma from A Splash of Vanilla