Wandering
around a market with cash and a cornucopia of fruit and vegetables it's hard to resist buying. I made a most excellent choice as far as I'm concerned and parted with my pennies in exchange for a majestic purple carrot. For something that I find as rarely as this I wanted to make the most of it without detracting from the magnificent root itself. Carrot soup was to be lunch.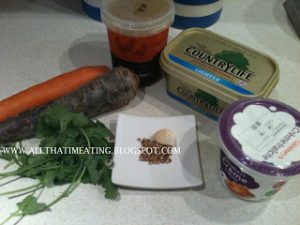 Ingredients
What you will need (for two bowls):
2 large carrots (2 purple if you can get them)

Butter

Chicken or vegetable stock 400ml

Garlic clove

Coriander seeds 1tsp

Fresh coriander

Creme fraiche

Seasoning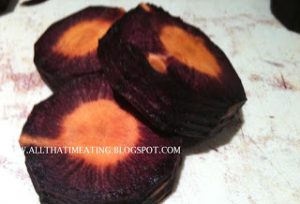 Method
If you ever manage to get hold of these little beauties, my advice would be to never boil them. Not only does it turn everything else a strange browny purple colour it also takes all the colour out of the carrots.
As I only had change for the one purple carrot I added an orange one too. For the soup, fry the carrots and garlic in a nice hearty sized knob of butter. Put the lid on them and let them soften.
While they do this, dry fry a teaspoon of coriander seeds until they jump around the frying pan and are good and toasted.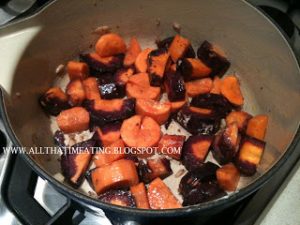 When the carrots have had a good 10 minutes, put about 400ml of stock into the pan. I cheated and bought mine in a tub. Put the coriander seeds and seasoning in and let the whole lot bubble away for about 20 minutes. It smells so fresh and spicy.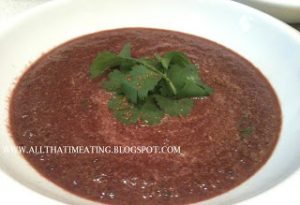 When it's all soft and squishy, blend it to the consistency you like. This makes about enough for two people so it'll all go into the blender at once. Return the soup to the pan when blended and stir in a tablespoon of the creme fraiche. Rip up some fresh coriander and stir it through while gently heating the soup.
If you want to keep it for the next day, leave out the creme fraiche and fresh coriander until you re-heat it later on.
Perhaps the word purple should be used quite loosely. I think brown is too offensive and not strictly accurate. Heliotrope maybe. Either way it was delicious. It looked a bit strange but with some warm crusty bread and a blindfold who cares?