Adding herbs to bakes and drinks is something I really like to do. I like the botanical flavour that herbs can bring to various dishes and I think woody herbs really suit being paired with chocolate. These chocolate, thyme and lemon shortbread biscuits are a delicious combination of flavours if I do say so myself and if you're unsure about adding herbs to a biscuit you'll just have to give it a try!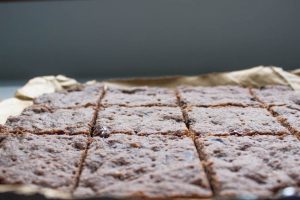 Ingredients
You will need (for 12 squares):
180g plain flour
1 tbsp cocoa powder
50g caster sugar
150g softened butter
50g dark chocolate, finely chopped
1tsp dried thyme
Zest 1 lemon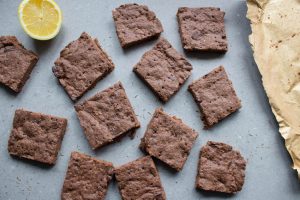 Method
Preheat your oven to 160C and line a baking dish; I used a square one for this batch but round or circular dishes work just as well.
Put all of the ingredients into a large bowl, or mixer, and beat together until they form a dough. Remove from the bowl and knead lightly.
Press the dough into the tin, spreading it out evenly, then prick the top of the shortbread with a fork. Bake for 45 minutes.
Remove from the oven, mark into squares then leave to cool before removing the biscuits from the dish.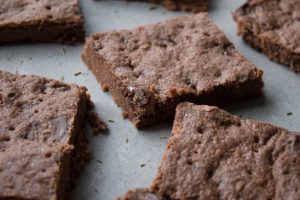 You can't go wrong with a dark chocolate shortbread biscuit, and that's certainly the case when they're served warm from the oven. The added thyme gives a little warmth and herbal note which coupled with the fresh, zesty lemon is just the thing with a cup of tea. Dried thyme works well in this as I think the oils in fresh thyme might taint a little as it gets baked in the oven. I have previously tried a similar combination of flavours with my chocolate, rosemary and hazelnut biscuits. I would like to try infusing some bay with a white chocolate mousse or sauce at some point in the future too.