It was one of those days where I wanted something simple but interesting. A dish which would take a few minutes to make and take plenty of time to enjoy eating it. I tried something similar to this artichoke and red pepper gratin when in France last year and have wanted to have a go at making it myself for ages. It's a perfect recipe for a rainy Sunday afternoon and although made from a few simple ingredients is so much more than the sum of its parts.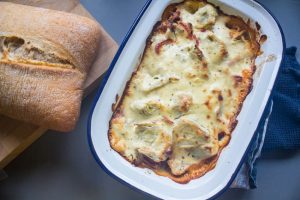 Ingredients
You will need (for two greedy people or four less-so-greedy people):
2 red peppers, thinly sliced
2 tins artichokes – see note below
1 sprig fresh thyme
1 clove garlic, crushed
1 tbsp olive oil plus extra for roasting
200g soft goats cheese
150ml double cream
Salt and pepper
Note – I used tinned artichokes in water. If I made it again I would use the chargrilled artichokes in oil because they would give a lovely, smoky flavour but they would need draining really well.
Method
Put the sliced peppers onto a baking tray and mix with a little oil and salt and pepper. Bake at 200C for 20 minutes until starting to char at the edges.
While the peppers are roasting add a tbsp olive oil to a frying pan with the garlic and thyme. Add the artichokes and fry gently for a few minutes.
Add the artichokes and peppers to a roasting dish.
Gently warm up the double cream in a small saucepan. Stir through the goat's cheese and a good grinding of black pepper and carry on stirring until the cheese has fully melted into the cream.
Pour the cheese sauce over the vegetables then put everything back in the oven for 15-20 minutes or until golden brown on the top.
Serve with crusty bread.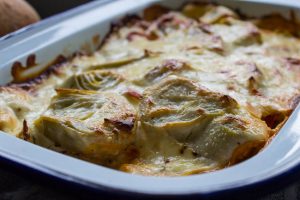 The best way to serve this is at the table with a plate each and a serving spoon. You can scoop up as many artichokes and peppers as you like onto your plate and then load them onto crusty, ripped off pieces of bread and enjoy every mouthful. The sweetness of the peppers with the delicate, slightly grassy artichokes and smooth cheese sauce is truly delicious. A little bit of added thyme finishes everything off beautifully and if I could have got my hands on a fougasse to serve it with it would have been even better.