There are so many delicious cakes and biscuits which appear from the recipe books ready for Easter. Simnel cakes, hot cross buns and Easter egg nest cakes to name a few. Frankly I think it's shameful that all the Easter treats aren't served all at the same time with a huge pot of tea and some excellent company. So that's exactly what an Easter afternoon tea is all about. An excuse to scoff all the tasty cakes and biscuits along with some sandwiches (which of course contain some sort of vegetable to negate the cake calories) and scones (because it's not afternoon tea without a scone).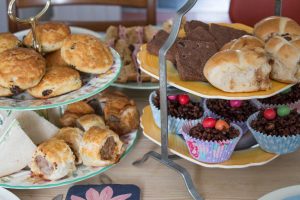 Of course, an afternoon tea can comprise whatever takes your fancy, below is what I chose to serve for mine:
Cucumber, cream cheese and chive sandwiches
Smoked ham and chutney sandwiches
Locally made sausage rolls and a small pork pie
Sultana scones with clotted cream and jam
Rice krispie Easter nest cakes
Caramel and chocolate hot cross buns (I bought these!)
A nice pot of tea and coffee on the side to wash it all down with finished it off perfectly.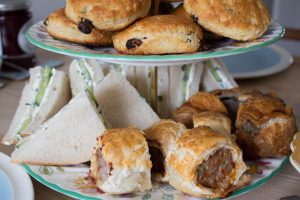 I do really like chocolate Easter egg nests and I have made some delicious white chocolate and coconut ones before. This batch of krispie cakes needed to be slightly on the bitter side as they were being served alongside other sweet foods. I also prefer them when they are the sticky cocoa covered kind rather than the melted chocolate variety as they are much easier to eat!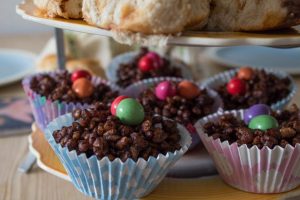 Ingredients
To make your own rice krispie cakes you will need:
125g rice krispies
100g unsalted butter
100g golden syrup
25g cocoa powder
Chocolate eggs to decorate
Put the rice krispies onto a baking tray and put them in a warm oven so they get lovely and toasted.
Melt the butter and golden syrup in a large pan on a low heat. When melted and combined sift in the cocoa powder and mix everything together well.
Tip the krispies into the cocoa mix and stir everything together so it's well coated.
Divide the cocoa covered rice krispies between 12 cupcake cases and top each one with a couple of chocolate eggs.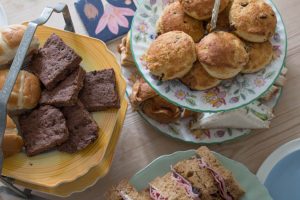 You might have noticed that my scones were a little on the flat side. I know exactly why, it was my mistake. I cooked them on foil backed baking paper and I think this stopped the heat from getting to them how it normally would and they didn't rise as much. They still tasted great covered in clotted cream and raspberry jam though! Plenty of fuel for an afternoon Easter egg hunt!
As much of a fan of a traditional Easter Sunday roast as I am I think this afternoon tea is a fantastic alternative. And the leftovers you have afterwards are excellent.