There were two things I discovered I loved when I was in Italy. The first was nduja (if it was on a menu, I was having it) and the second was broccoli on pizza. It seemed, to me, a very good idea to combine the two in a nduja and broccoli pizza. With cooler evenings starting now a seriously spicy, warming pizza made from my favourite ingredients is my idea of the perfect dinner.
Nduja is a Sicilian spreadable salami with an unbelievable amount of chilli in. It almost glows red when you see it. As the nduja is used in the sauce here, rather than as a topping, it gives a warmth and depth of flavour to the whole pizza. The creamy mozzarella does quieten the powerful nduja down a little and the freshness of the broccoli finishes everything off so well. Served with a fresh salad I think this is one of the finest pizzas I have ever made. This is enough pizza for four but we eat it between two. Because we're greedy.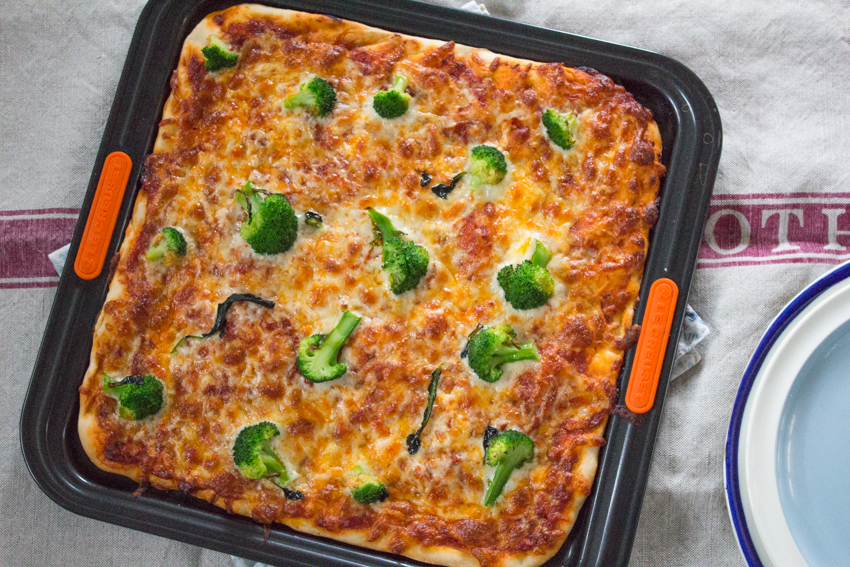 Top Tips
I have made so many versions of this pizza and the one thing that doesn't work very well is wet mozzarella. The kind that you buy in a bag with water. It's too wet for this and causes the dough to become too sticky. Definitely use the pre-grated mozzarella.
In the recipe below I've only used a few spoonfuls of the nduja sauce. You don't need a lot of sauce for the pizza so I freeze it in portions for future pizzas.
The nduja sauce is also delicious as a sauce for pasta. On its own it is quite intense but you could stir in some extra tomatoes or roasted vegetables. Again, I save portions in the freezer for a meal in minutes.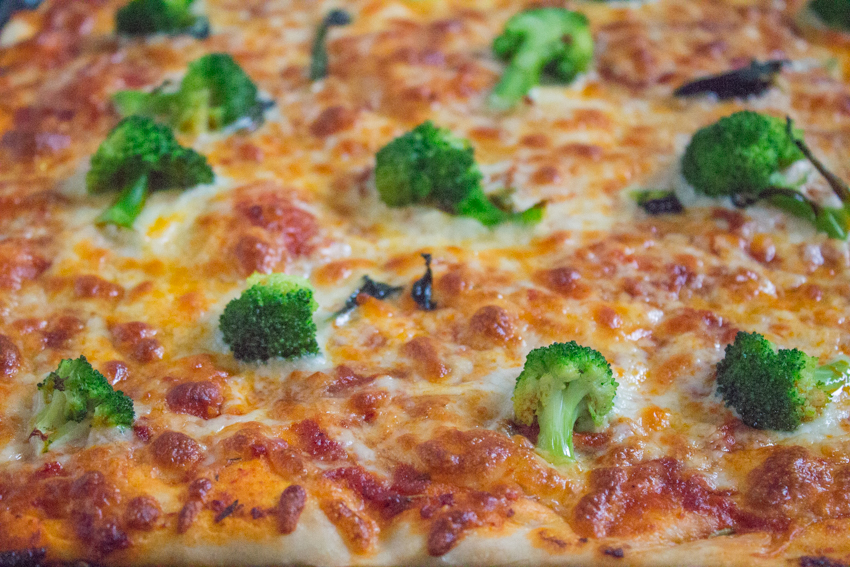 Variations
It's pizza so the world is your oyster! There are some toppings I would definitely recommend though. Olives, artichokes or sliced peppers are delicious toppings on this pizza.
I have made this in the past, used less mozzarella and dolloped some mascarpone on the top. It is seriously good as it melts over the pizza and is so creamy.
As of yet I am yet to find anything which comes close to nduja in terms of flavour and melting-ness. I think the most similar thing would be to use a very good quality spicy sausage and add a lot of dried chilli.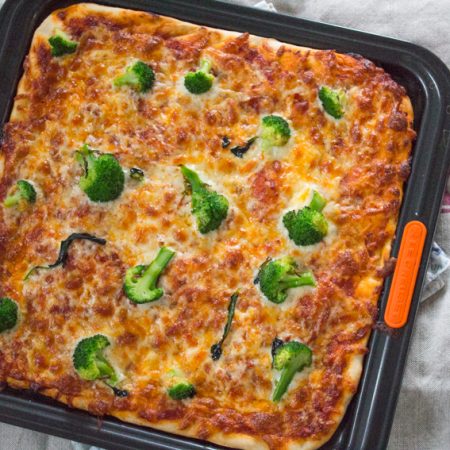 Nduja and Broccoli Pizza
Spicy, full flavoured nduja makes a brilliant pizza sauce. Especially with plenty of mozzarella and fresh broccoli.
Ingredients
For the pizza dough*
300

g

plain flour

1

tsp

yeast

not fast action

170

ml

warm water

2

tbsp

extra virgin olive oil

Pinch

salt
For the nduja sauce
1

onion

finely chopped

100

g

nduja

1

tsp

fennel seeds

400

g

tinned finely chopped tomatoes

1

tsp

dried thyme
Toppings
175

g

grated mozzarella

Small

handful

broccoli

chopped into florets
Instructions
To make the pizza dough
Put the flour, yeast and salt into a mixing bowl and stir together. Use a dough hook attachment for a hand mixer or mixing machine.

Keep the mixer on while pouring in the water and olive oil.

Knead the dough for around five minutes or until it's springy and stretchy. If you're making this by hand kneading will take around 10 minutes.

Put the dough into a large oiled bowl, cover the bowl with a damp tea towel and leave in a warm place to rise for an hour.

After an hour, knock the dough back.

Lightly oil a large baking tray (one that has low sides). Stretch the dough to fit the baking tray taking it right up to the sides.

Leave the dough to rise for 30 minutes. After this it is ready to use as below.
To make the sauce
Get a small saucepan onto a medium low heat and add the onion and nduja. Fry everything together for 10 minutes breaking the nduja with a spoon.

Add the fennel seeds to the nduja and fry for a minute more.

Add the tomatoes and thyme. Rinse the tin out with a little water and add this to the pan too. Leave to simmer for 15-20 minutes, stirring occasionally, until nicely thickened.
To make the pizza
Bring a small pan of salted water to the boil and add the broccoli. Boil for two minutes then drain well.

Take 2-3 tbsp of the nduja sauce and spread it over the base of the pizza. (See Top Tips above).

Sprinkle over the mozzarella getting it right up to the edges. Put the broccoli on top and then bake in the top of the oven for 10-15 minutes or until golden brown and the base is crispy.
Notes
* I have based my pizza dough recipe on one from Olive which I have made so many times and slightly tweaked it to suit my cooking.
I make my pizza dough in a mixer but you can make it by hand.
Pin my Nduja and Broccoli Pizza recipe for later!