Also known as eggs en cocotte this is a classic recipe and one I can't believe I've never made before! My baked eggs with spinach and cheddar take no time at all to make; it's on the table in under 15 minutes. Don't be fooled though, this simple recipe is seriously luxurious and packed with comforting flavours.
Once your fork (or spoon!) hits that runny yolk it mixes with the soft spinach, melted cheese and double cream and it is truly a joy to eat. The egg white should be just set and the yolk still runny. They are delicious served on their own but served with some crusty bread for dipping you really can't go wrong.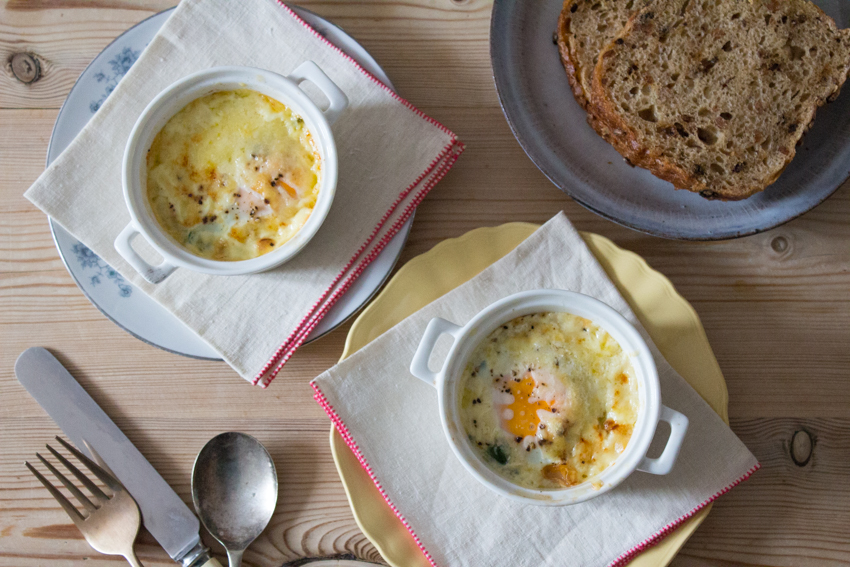 Top Tips
As the recipe is one egg per person this recipe is so easy to scale up or down depending on how many mouths you need to feed. The quality of ingredients you use is really important for this recipe. I used beautifully fresh, free range eggs, organic double cream and some strong crumbly cheddar.
The eggs need to be baked in a bain marie. In other words, the ramekins need to be surrounded by hot water as they bake. It can be tricky getting a pan full of boiling water into the oven but half filling the tray first, then taking it to the oven and filling it up there makes things much easier.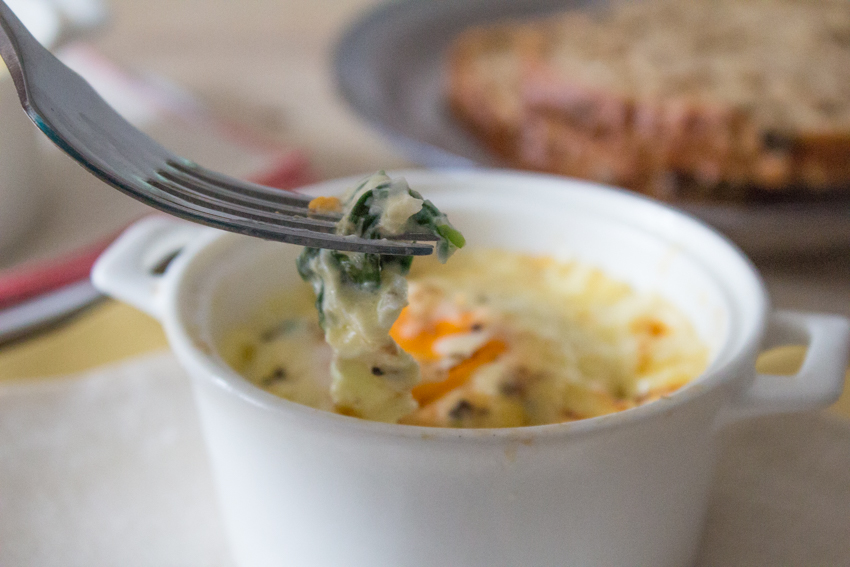 Variations
Try different vegetables like peppers, tomatoes or cooked mushrooms. If you want to make it a little lighter, try using low fat crème fraîche rather than double cream. Almost any leftovers you have could be used for this recipe: smoked fish, cooked ham, different cheeses. I like these baked eggs with spinach and cheddar as it's a classic combination but you really could do almost anything you like!
If you like the sound of these baked eggs I made a similar filling for a carrot tart. Full of fresh herbs and cheese my rainbow carrot tart takes this flavour of baked eggs to a whole new level.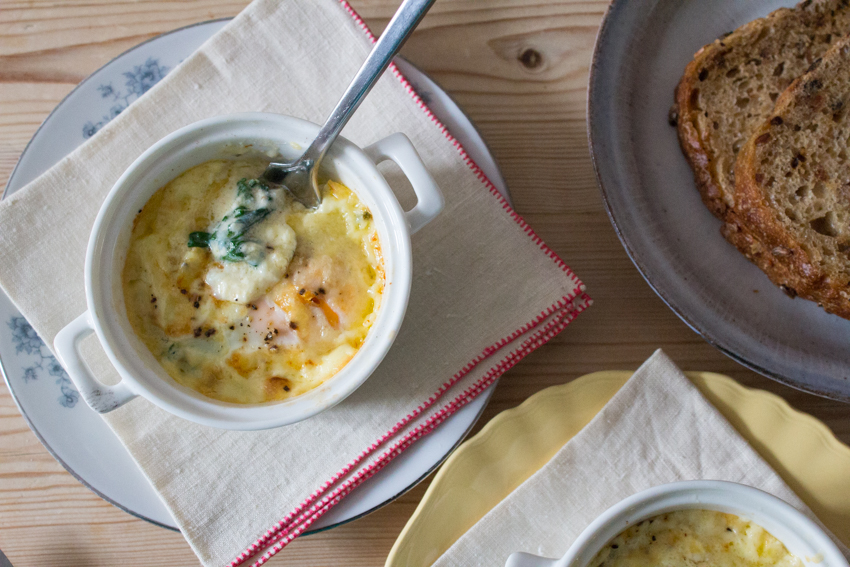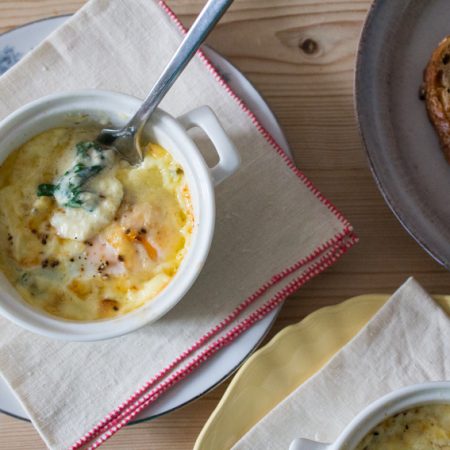 Baked Eggs with Spinach and Cheddar
A classic recipe ready in just 15 minutes using eggs, spinach and cheddar.
Ingredients
1

handful

spinach

2

eggs

2

tbsp

double cream

50

g

cheddar cheese

grated

salt and pepper

1

tbsp

butter

for greasing
Instructions
Add the spinach to a dry saucepan and cook over a low to medium heat for a few minutes or until wilted. Using the back of a spoon squeeze the spinach against the side of the pan to remove any excess water.

Lightly butter the inside of two ramekins. Preheat an oven to 180C.

Divide the spinach between the ramekins then crack an egg into each ramekin.

Pour one spoon of double cream into each ramekin along with a little salt and plenty of pepper. Divide the cheese between each ramekin and sprinkle it on top.

Put the ramekins into a high sided baking tray. Pour enough boiling water into the tray so that it comes two thirds of the way up the ramekin dishes.

Bake the eggs in the oven for 8 minutes. If you prefer a more set yolk then bake for 10 minutes.

Carefully remove the ramekins from the hot water before serving immediately.
Notes
It is easier to put a little boiling water into the baking tray and take the tray to the oven. Rest the tray on the oven shelf while you pour in any extra water you need.
Pin my baked eggs with spinach and cheddar for later!