There's been a spate of soup recipes appearing on my blog recently. I'll tell you for why: because there's nothing more comforting I would like to have for lunch during the week. Sure, a steaming bowl of cauliflower cheese would be a fantastic winter luncheon but that's more effort than I am willing to put in for what is effectively the most rushed meal of the week. So instead I take a bit of time at the weekend and batch cook some soup, freeze it and reap the rewards in the weeks to come. This Smoked Pea and Potato Soup is probably one of my favourite soups of all; all the salty, smoky tang as if it had bacon or ham in but it's vegan.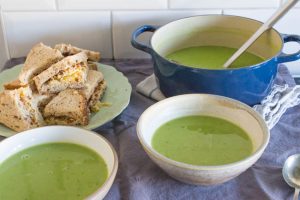 Ingredients
You will need (for four portions):
1 onion, diced
Oil for cooking
1 garlic clove, crushed
2 medium potatoes, peeled and diced
600ml vegetable stock
350g frozen peas
Sprig fresh mint
1/2 tbsp smoked salt
Black pepper
Method
Add a little oil to a saucepan and add the onion, potato and garlic. Fry for 5-10 minutes until the onion is softened, you'll need to stir it regularly to stop the potato from sticking.
Add the vegetable stock, bring to the boil and then simmer for 15 minutes. Tip in the peas, smoked salt, a good bit of black pepper and the mint. Bring the pan back to a simmer and continue simmering for 5 minutes.
Remove the soup from the heat and the blend the soup. Leave the mint in if you like it extra minty or take it out before blending if you don't.
If you want to eat it straight away return the soup to a low heat to ensure it's warm and check the seasoning before serving. If you are freezing in then leave it to cool before diving between pots and popping in the freezer.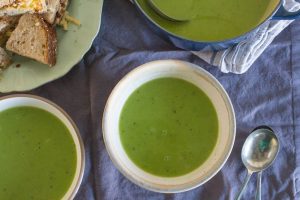 I'm not sure you can go wrong with peas and mint together, it's such a classic. The smoked salt really adds an extra something to this soup; I love ham or bacon with pea soup but wanted to avoid using meat in this recipe. The potato not only thickens the soup but makes it more filling too. Vibrant in colour and flavour you can't fail to be cheered up just looking at it. I've been particularly enjoying this smoked pea and potato soup with cheese and pickle sandwiches! What are your favourite freezer soups?