It's late autumn. I want the food on my plate to reflect the leaves on the trees outside and my chicken and chorizo tray bake does exactly that. A sizzling tray of orange, red and purple it smells so good while it's cooking and also tastes divine. Those orange juices at the bottom of the dish? Don't waste those. Tear open some crusty bread and get dunking.
Ingredients
You will need (for two):
2 chicken breasts
2 red peppers, deseeded and chopped
1 red onion, peeled and sliced
250g cherry tomatoes, halved
75-100g cooking chorizo, sliced or diced
Olive oil for cooking
Salt and pepper
Crusty bread to serve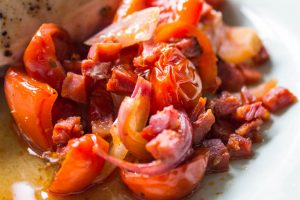 Method
Preheat an oven to 180C.
Put the peppers, tomatoes, onion and chorizo in a baking dish; one big enough to almost hold everything in a single layer. Drizzle over a little olive oil and some salt and pepper then roast in the oven for 10 minutes.
Remove the tray from the oven and put the two chicken breasts on top of the vegetables and chorizo. Return to the oven for a further 15-20 minutes, or until the chicken is cooked through.
Serve with some crusty bread to mop up the juices.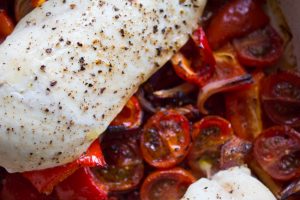 The intensity of the chorizo with the sharp tomatoes and sweet peppers is such a lovely combination with the chicken. I like to drizzle a little extra virgin olive oil over everything before serving. Dinner that is easy to prepare and cooks itself is always a winner in my kitchen!
You might be thinking that chicken and chorizo are both essential ingredients in a chicken and chorizo tray bake. Well, I've tried a vegan version swapping the chorizo for smoked paprika and a tin of butterbeans and using a halved aubergine instead of chicken. It was rather excellent, if I do say so myself.