I really like the flavour of satay: nutty, salty and with a hint of ginger and garlic. Quite a lot of the recipes I have tried involve marinating before cooking and frankly, on a weekday when I want dinner in a flash, mixing up a marinade is not what I want to be doing. My satay pork fried rice has all the flavours you'd want from satay, is super simple to make and contains three different vegetables. As it's a versatile recipe I've popped a couple of variations to the original at the end of the post.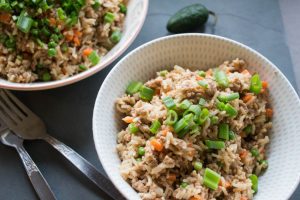 Ingredients
You will need (for two people):
250g minced pork (you could use minced chicken or veggie mince)
Oil for cooking
1 tsp sesame oil
Thumb sized piece fresh grated ginger
1 garlic clove, crushed
2 tbsp peanut butter
3 tbsp soy sauce (I prefer a low salt one)
4 spring onions, sliced (save a few bits to add at the end)
1 carrot, peeled and finely diced
Small handful frozen peas, defrosted
Cooked rice or noodles, enough for two
Method
In a small bowl mix together the sesame oil, ginger, garlic, peanut butter and soy sauce.
Get a wok or large frying pan on a medium to high heat and add a little oil. Fry the pork mince until it has browned and cooked through and then add the sauce. Continue cooking, stirring all the time, for another minute so the sauce gets well mixed with the pork. Remove from the pan and set aside.
Add a little more oil to the wok and add the spring onions and carrot. Fry for five minutes until softened. Then add the peas and cook for a few minutes more.
Tip the cooked rice and pork into the vegetables and stir everything together well.
Serve with a little chopped spring onion.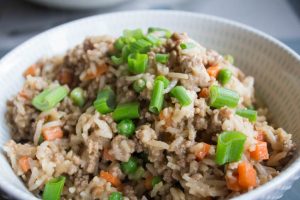 This satay pork fried rice is a real comfort food meal for me. The ginger, garlic, peanut and soy flavours all come through so well and the onion, carrots and peas add a crunch and freshness. A little sliced fresh chilli, some toasted sesame seeds or some chopped peanuts would be fantastic sprinkled over the top. (I've tried all three!). I have also tried this satay recipe with chicken mince and veggie mince and it works just as well. However, you need slightly less veggie mince by weight than pork or chicken mince. I love to grab a bowl and a fork, curl up in the armchair and eat this in peace.