Sometimes there's nothing better than a sandwich. It could be a properly crusty, thickly sliced loaf filled with simple cheese and chutney, a bagel filled with pastrami, gherkins and mustard or some thin rye bread topped with smoked fish and herbs. I don't think I could ever tire of something that you can just grab and eat with your hands. My salami and mozzarella open ciabatta is just the thing for a simple, no fuss, full of flavour dinner. Don't tell anyone but I could have eaten all four pieces to myself.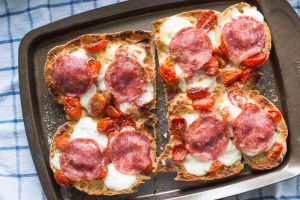 ingredients
You will need (for two big sandwiches or four smaller ones):
1 ciabatta loaf
Handful cherry tomatoes, halved
1-2 tbsp olive oil for cooking and extra virgin olive oil
Balsamic vinegar
Salt and pepper
1 garlic clove, peeled and sliced in half
1 ball mozzarella, torn into small pieces
8 slices salami
method
Start by baking the ciabatta according to packet instructions. Leave to cool before slicing in half lengthways and opening the ciabatta up, then slice it in half again so you end up with four equal sized pieces.
Turn the oven to 220C and put the tomatoes in a single layer in a baking dish. Drizzle over the olive oil and balsamic vinegar, add the vinegar to suit your taste, and then season.
Bake for 20 minutes or until the tomatoes are starting to brown at the edges.
Preheat a grill to medium.
Rub the garlic clove, cut side down, over each open face of the ciabatta. Drizzle some extra virgin olive oil over the ciabatta and then place under the grill for a few minutes until lightly toasted.
Remove the ciabatta and then load each slice up with the tomatoes, salami and mozzarella. Put back under the grill until the salami has crisped up a little but be careful not to let the ciabatta catch.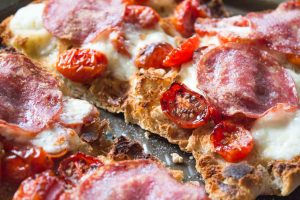 Unintentionally this reminded me of a pizza and actually, considering how easy it is to make I would definitely try it again instead of a pizza! I love this combination of flavours; sharp and sweet tomatoes, creamy mozzarella and punchy salami. There are so many variations of this that you could make. One I would really like to try would be some leftover griddled aubergine, goat's cheese and pesto. Or maybe one with figs, blue cheese and honey. Or maybe…