When I cut into a lemon I can't help but give it a good sniff. It's the same with lime and grapefruit. There's something about that citrus smell that I just can't wait to inhale; especially if it's a drizzly day. I also love tropical flavours at this time of year: coconut, passion fruit, mango, you name it! Combining a bit of citrus and a bit of tropical was the idea here so I set about baking some lemon and coconut flapjacks.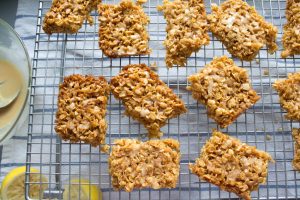 ingredients
You will need (for 12 flapjacks):
125g butter
125g soft brown sugar
3 tbsp golden syrup
225g oats
25g desiccated coconut
Zest 1 lemon
Juice 1 lemon
4-6 tbsp icing sugar (I used unrefined)
method
Preheat an oven to 180C and grease a baking dish well, the one I used was 20cm x 20cm.
In a small saucepan melt together the butter, brown sugar and golden syrup on a low heat. Stir often to ensure everything gets well combined.
Stir the oats, coconut and lemon zest together in a large bowl.
Once the butter, sugar and syrup have melted pour them into the oats and mix everything together well to ensure that the butter mix has coated everything.
Tip the oats into the baking dish and flatten the top with the back of a spoon.
Bake for 20 minutes.
Remove the flapjacks from the oven and mark into portions while they are still hot. Leave to cool for at least 20 minutes before removing and leaving to cool on a wire rack.
To make the icing squeeze the lemon juice into a bowl. Sift in three tbsp icing sugar to start with and see how thick the icing gets. Keep adding more icing sugar until the icing becomes thick enough to coat the back of a spoon.
Drizzle, splat or dunk the flapjacks in the icing to decorate.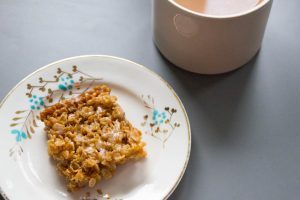 Now when you come to ice the flapjacks don't be alarmed that the icing dribbles down in between the oats. That tangy lemon hit will settle somewhere inside and be delicious when you come to eat it. By using unrefined icing sugar the icing will come out a pale brown/yellow colour but if you use refined icing sugar it will come out white. I really like using chunky whole oats for flapjacks as I think it gives a great texture and mixed with coconut the overall texture of these is slightly chewy at the edges and soft in the middle. Just how I like them.