I used to think I didn't like dried apricots. As it turns out, I do, but only the extra squidgy unsulphured ones. When you bite into them or pull them apart it's almost like they are full of thick honey and you can see the strands of sticky apricot trying to hold on to the other half. They are the perfect addition to some apricot and coconut granola; a burst of sunny-day flavours for breakfast is how I like to start my day.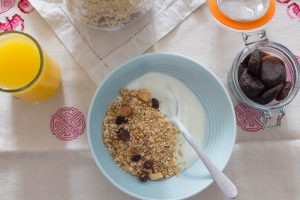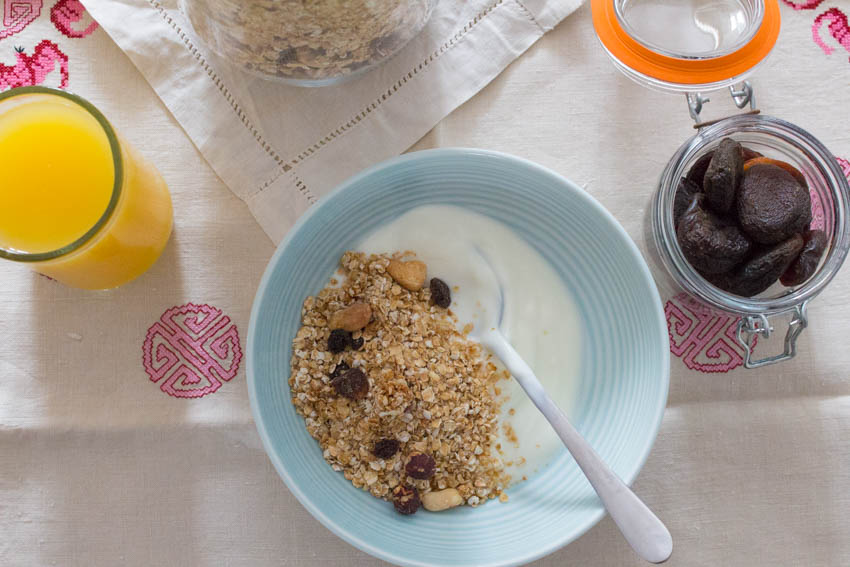 ingredients
You will need (for a big jar of finished granola):
350g oats
150g mixed nuts (hazelnuts, almonds, Brazil nuts, macadamias, walnuts or whatever you like)
75g seeds (poppy, linseed, sesame or whatever you like)
75g desiccated coconut
125g dried apricots, chopped
3 tbsp coconut oil
120ml honey or maple syrup
method
In a large bowl mix together the oats, nuts, seeds and desiccated coconut.
Preheat an oven to 150C and line two large baking trays with baking paper.
Add the honey (or maple syrup) and coconut oil to a small pan and heat gently until the coconut oil has melted. Stir everything together to make sure it's well combined.
Pour the honey and coconut mixture over the granola ingredients and mix everything together really well with a large spoon.
Tip the granola onto the lined baking trays and spread the mix out over the tray so you have one even layer.
Put the trays into the oven and bake for 10-15 minutes until it's smelling toasty. Remove the trays from the oven, mix everything together well and then put back into the oven for another 10-15 minutes so that everything gets evenly toasted. Be careful not to let anything catch but do leave it in long enough for everything to be a lovely golden colour.
Remove the trays from the oven and leave to cool. Add the chopped apricot to the granola mix then tip into an airtight container.
This amount of granola will last two of us at least a fortnight having a generous serving with yoghurt.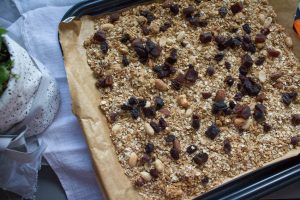 I love how dark the apricots are amongst all the other ingredients. You can of course use the orange dried apricots, or any other dried fruit that you like to make it your own. The combination of apricot and coconut together I really like and I think I'd add some coconut flakes next time for more texture. I like to serve my homemade granola over yoghurt and my OH likes to add some to other cereal and make both go a little further.